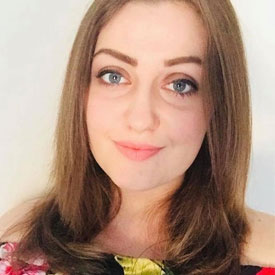 Harriet Cox
Country Of Origin: United Kingdom
Degree: MSc Human Resource Management, 2019
---
HR Service Coordinator , L'Oreal
---
Why did you choose to study at LUMS?
I chose to study at LUMS because it's one of the top business schools in the country and because it offered programmes that suited my career goals.
What was the best thing about your course?
I enjoyed the structure of the degree, as well as being able to meet and work with lots of different people who have come from all over the world.
What/who inspired you most at LUMS and why?
I felt inspired by the lecturers when hearing about their research and the positive impact this was having in workplaces across the UK.
Did you do a project, placement or study abroad? What did this involve and what did you gain?
Yes, I completed a year's placement at Microsoft, working as a Delivery Excellence Intern. I feel I gained a lot from this placement year, as I was able to develop both my technical and soft skills.
Describe your time at LUMS in three words.
Fun, Challenging and Insightful.
What are your best memories of your time at Lancaster?
I have really enjoyed my time at Lancaster University, both my undergraduate and postgraduate programs were excellent. There is a great social side to the university, and because of that I have made lots of new friends and many memories.
What are the best things about living in the Lancaster area?
The campus offers a great study environment and plenty of opportunities to make new friends. The town is also cosy with nice places to eat and drink.
What impact did scholarships or funding have on your degree experience?
They had a positive impact on my studies, helping to ensure I could fund myself throughout my degree.
Which parts of your Lancaster experience were the best preparation for your job?
The master's programme offered useful insight into the current context of HR and helped me gain my CIPD accreditation, which helped to prepare me for my current job.
What impact has your Lancaster experience had on your career?
My time at Lancaster University has given me knowledge into my chosen field of work, as well as developed my soft skills useful for working in a business.
Is there anything else about your LUMS experience that you'd like to share with us?
I had a thoroughly enjoyable experience being a part of LUMS and felt well supported by the careers team when applying for internships.