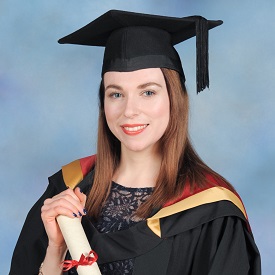 Alice Callender
Country Of Origin: United Kingdom
Degree: MSc Marketing, 2019
---
Business Development Executive, The Hut Group
---
Why did you choose to study at LUMS?
I studied English Language and Linguistics at Lancaster and loved it, however I was ready for my next challenge in an area which had always been of interest to me. I was offered a scholarship to continue my studies and I was lucky to be able to spend another wonderful year at the University.

What was the best thing about your course?
The people.

What/who inspired you most at LUMS and why?
My Undergraduate self who was told by others that an MSc was a risky move, especially in a subject I had not studied before... but I took my own initiative and it was the best choice I could have made. I have come out of it with confidence, an amazing job, a new life heading in the right direction.

Describe your time at LUMS in three words.
Amazing, inspiring, rewarding.

What are your best memories of your time at Lancaster?
I have to say that I made the most of my MSc year and was lucky to have such fantastic memories. I made two best friends who I am still in contact with, I met my lovely boyfriend, was able to work with the cohort by being a student rep, came out with a First in my degree and a job at the company I had my heart set on. I think the graduation in December for me was the moment I realised that this has been one of the best and most rewarding years of my life in so many ways. I will never forget it.

What are the best things about living in the Lancaster area?
It is a beautiful little city with everything a student needs. The campus is friendly and modern, the city is traditional and filled with student life, the night-life is good fun and although small, I always felt like it was my home.

Which parts of your Lancaster experience were the best preparation for your job?
The practical presentations, group work, workshop prep and graded material.

What impact has your Lancaster experience had on your career?
It found me a job in the Beauty Industry and gave me a good start to shape my career path. My MSc year also built my confidence and prepared me for a Marketing role.

Is there anything else about your LUMS experience that you'd like to share with us?
I would recommend anyone thinking of studying an MSc to take the leap, to work hard but to also make time for the social side it offers. I came out with a fantastic degree, Marketing knowledge and skills but also friendships and a relationship which I am extremely grateful for. Immerse yourself in the student culture, the opportunities to develop skills and confidence, and enjoy every moment while you can. I thank the department for a great year I will never forget!