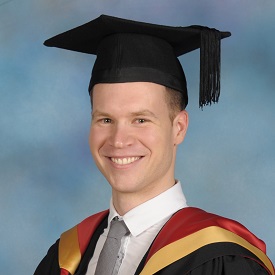 Richard Kapitany
Country Of Origin: Hungary
Degree: MSc Marketing, 2019
---
Dealer Services Agent, Ford Credit
---
What was the best thing about your course?
The people I met on the course came from such diverse backgrounds all with passion for marketing.

What/who inspired you most at LUMS and why?
My Hungarian friend Daniel from home encouraged me to get out of my comfort zone and study abroad just as he did. It was the best decision that I could have made and I am so thankful for it.

Describe your time at LUMS in three words.
Life-changing, rewarding, love.

What are your best memories of your time at Lancaster?
I met my girlfriend on the cohort and we are currently living and working in Manchester together.

What are the best things about living in the Lancaster area?
A small, safe city filled with students provided me with a comfortable place to focus on my studies.

Which parts of your Lancaster experience were the best preparation for your job?
Studying in the UK prepared me and built my confidence to live and work in the UK after my MSc.