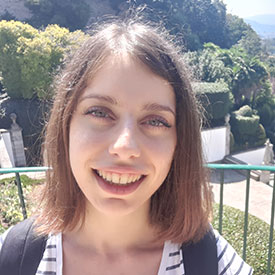 Eleni Flegka
Country Of Origin: Greece
Degree: MSc Accounting and Financial Management, 2018
---
Audit Assistant, Deloitte
---
Why did you choose to study at LUMS?
Because of the prestige of the Management School.

What was the best thing about your course?
The good quality of the studies.

What/who inspired you most at LUMS and why?
All of my professors tried to instill in me their passion about their sciences.

Describe your time at LUMS in three words.
Studying, experience, friends.

What are your best memories of your time at Lancaster?
The high quality of studies and the beautiful city of Lancaster.

What are the best things about living in the Lancaster area?
The clean atmosphere, the picturesque city, the nature and the friendly people.

Which parts of your Lancaster experience were the best preparation for your job?
The academic knowledge and the fact that the courses taught me the business terminology that I now use as a professional.

What impact has your Lancaster experience had on your career?
It helped me get hired at the job of my dreams.