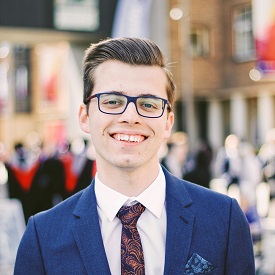 Oliver Kay
Country Of Origin: United Kingdom
Degree: BSc Accounting and Finance (Industry), 2020
---
Tax Trainee, Mazars LLP
---
Why did you choose to study at LUMS?
I chose to study at LUMS for a variety of reasons, the upmost being the global reputation and recognition of not only the management school but the university itself. In addition to this the support network offered by LUMS was also a huge selling point, from the maths and stats help for those without A Level Maths to the careers team who can help with placements, internships and graduate roles. Lancaster stood out to me for these reasons.
What was the best thing about your course?
The flexibility that was offered on my course allowed me to explore areas of the subject that I might never have studied without this option to combine within my degree programme. It is this flexibility that has helped me to find the career path I have now chosen.
Did you do a project, placement or study abroad? What did this involve and what did you gain?
I did a year-long placement within the Finance function of a medium sized business. This allowed me to develop the skills that I had learnt in the first 2 years of my study. I also got to learn more about my subject which helped me massively in my final year.
What are your best memories of your time at Lancaster?
I have so many memories from my time at Lancaster, it would be hard to list them all here. The one that I remember the most is the huge yearly sporting competition between Lancaster and York University (Roses). Although I am not a massive sports fan myself, the community feeling on campus over that weekend was incredible and it was great to be involved as a spectator. I also have many memories as a student ambassador for LUMS, which allowed me to get involved in various open days and events allowing me to meet other students I would have otherwise not met as well as being able to share my experience with prospective students.
What are the best things about living in the Lancaster area?
Lancaster might seem a small place when coming from other large cities, but as a historical town it has a great culture with lots of independent bars, restaurants and shops. Also being so close to the Lake District there are so many places to explore and if you want a big city experience Manchester and Liverpool are not too far away.
What impact has your Lancaster experience had on your career?
I can almost certainly say I would not have found my career path without the Lancaster experience. The various career events run by LUMS and the support from my academic tutor has shaped my future career path.