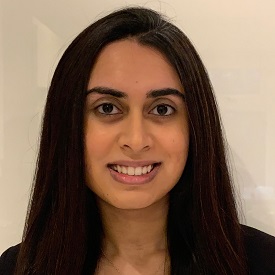 Pankhuri Gadi
Country Of Origin: United Kingdom
Degree: BSc Economics (Industry), 2020
---
Client Solutions Associate, FactSet
---
Why did you choose to study at LUMS?
When applying for universities, I was very keen to do a placement year, which was one of my main reasons for choosing LUMS. Both the university and the school have an outstanding reputation and extensive links with numerous reputable employers. This combination made LUMS a stand-out option.
What was the best thing about your course?
The best thing about my course was the balance between economic theory, mathematical rigour and real-world application. A variety of modules allowed me to broaden my subject knowledge further and tailor my course to areas of interest. The teaching quality of the Economics Department is very strong. All the staff are willing to help with any problems and have a real interest in ensuring students achieve their full academic potential.
What/who inspired you most at LUMS and why?
I feel fortunate to have met some inspiring people in the Economics Department and in LUMS Careers. My dissertation supervisor, Dr Konstantinos Georgalos, has been a great mentor throughout the research and writing process. This was the most rewarding piece of work I completed as an undergraduate and I was selected to present my findings at the Lancaster 2020 Undergraduate Research Conference. For this, I am grateful for his support and guidance.
My Game Theory lectures with Dr Sonali Sen Gupta were very interesting and gave me valuable tools I could apply to other areas of Economics and beyond. This was a highlight of my learning at university. Finally, Paul McCormick (LUMS Financial Careers Coach) has been extremely helpful with CV advice and interview preparation which proved vital in securing my placement and graduate role.
Did you do a project, placement or study abroad? What did this involve and what did you gain?
As part of my Economics degree, I completed a 12-month placement year at Russell Investments in the Equities Team (Investment Division) in the London office. My main responsibilities involved quantitative performance analysis and macroeconomic research for Russell's Global, Emerging Markets, Europe and UK Equity Funds. This opportunity allowed me to apply micro and macroeconomic theory from core modules to real-life firm scenarios. In addition, I developed strong knowledge of financial markets and data analysis skills through using Microsoft Excel on a regular basis. Identifying limitations in portfolio analysis and using computational skills to improve processes was the biggest learning curve but the best part of my placement year. In fact, these skills were the stepping stones in securing my graduate job at FactSet.
Describe your time at LUMS in three words.
Stimulating, Memorable, Fun.
What are your best memories of your time at Lancaster?
My best memories have to be with the amazing friends I made at Lancaster, a source of joy and laughter all these years. I have enjoyed every moment spent, including early morning parkruns in Williamson Park, trips to Manchester and the Lake District, Diwali Balls, birthday dinners, coffee runs and many more. Societies are a great way to meet like-minded people with similar interests. As an Equity Analyst in the Healthcare team at Lancaster's student-run Ghosal Investment Fund, it was a privilege to share and learn equity investing first-hand with truly motivating people. In addition, a special highlight during my time at university was being part of Lancaster University Running and Athletics Club and winning the annual Roses competition.
What are the best things about living in the Lancaster area?
Lancaster is a welcoming place to study and live. It is a small city with lots of great independent coffee shops, bars and places to get brunch. Everywhere is walkable distance so it is easy to explore and you will nearly always bump into a friend or two. Williamson Park and Lancaster Castle are the best spots to get a beautiful view of the city at sunset. Having the Lake District on your doorstep is an added benefit. There is an abundance of great hiking routes and stunning scenery. Hiking up to Helvellyn with housemates was an unforgettable experience!