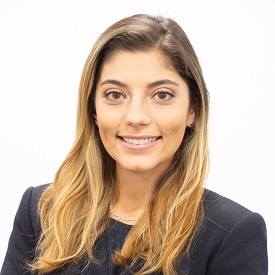 Vanessa Sauma Maluly
Country Of Origin: Brazil
Degree: Full-time MBA, 2020
---
Pathfinder Consultant, Telos Partners
---
What did you do before joining the MBA?
Before the MBA I worked for 5 years as a Corporate and M&A Lawyer and Advisor for big law firms and listed corporations in Brazil.

Why did you decide to do an MBA?
I decided to do an MBA as it was an opportunity to strengthen my business and management skills. Also, I saw it as an opportunity to broaden my perspectives, and experience a new culture.

Why did you choose Lancaster University?
Firstly, the Lancaster MBA is up in the ranks for best MBAs around the world. Secondly, the Lancaster MBA course structure is in line with the global trends of responsible leadership and sustainability, being a frontrunner in those topics especially when compared to other Business Schools around the globe. The course equips students with the required tools to be a good leader in a VUCA world.
Additionally, the cohort has a great diversity, counting with over 20 different nationalities and different backgrounds, from entrepreneurs to executives. This cognitive diversity is very rich and powerful! Finally, there are scholarship opportunities which help students to afford a top 100 MBA school.
What did you enjoy most about the Lancaster MBA?
• Networking events
• Great Career Service support (i.e. CV-building, Coaching, Practice Interviews)
• Numerous trips to London and the Lake District
• An MBA curriculum in line with current global trends (i.e. Mindful Manager, Social Responsibility, SDG)
• Opportunity to work on real projects with companies like Microsoft, Hilti, Co-op Health

How do you think the Lancaster MBA benefitted you?
The Lancaster MBA gave me the opportunity to work with people from different nationalities and backgrounds, and I learned to manage different stakeholders' ways of working. It helped me to develop the ability to extract the best from each individual and deliver top quality projects. Also, the Challenges gave us the opportunity to work on real cases and with real clients, bringing to action the learning from the classroom.
What is your next step now you have completed your Lancaster MBA?
I want to dedicate time to working and applying the knowledge from the MBA within my organisation and with our clients. Helping clients to implement the correct strategies to grow and succeed.