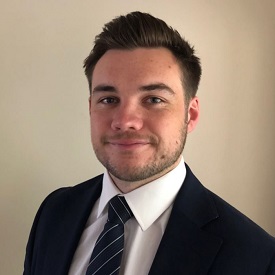 Frankie Haugh
Country Of Origin: United Kingdom
Degree: MSc Politics, Philosophy & Management, 2020
---
Account Executive, Softcat
---
Why did you choose to study at LUMS?
I had done my undergraduate at Lancaster so I knew how friendly and welcoming the University is. LUMS also had a brilliant reputation for delivering excellent learning and preparing students for the world of work.
What was the best thing about your course?
The breadth of learning was the most enjoyable part of my course. I didn't know what I wanted to do so being able to choose modules which suited me was perfect. The course is also delivered by lecturers who really know their stuff and teach in an engaging way.
Describe your time at LUMS in three words.
Rewarding, enjoyable, challenging.
What are the best things about living in the Lancaster area?
It's a lovely place to live. There's a mix of some really authentic pubs and modern, interesting bars/cafes. Also, being able to visit both the Lake District and the Trough of Bowland really easily is great.
What impact has your Lancaster experience had on your career?
Lancaster has been invaluable for my career. Not only did the course give me transferable skills which I use day to day in my current role, Lancaster also gave the best career coaching. It was great to get guidance and help at every step of the way in trying to find a job; whether it was through the wealth of resources or via one-to-one coaching, they were great.
Is there anything else about your LUMS experience that you'd like to share with us?
The whole team at LUMS responded magnificently to a really difficult situation last year as COVID-19 emerged and completely changed the way in which teaching had to happen. I was just getting underway on my dissertation and the support I received was unwavering. It really speaks to the commitment and care of everyone at LUMS, so thank you all.