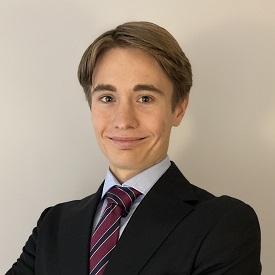 Federico Di Marzio
Country Of Origin: Italy
Degree: BSc Finance (Industry), 2021
---
Associate Analyst, Moody's Investors Service
---
Why did you choose to study at LUMS?
I chose LUMS because it has a diverse international community, which appealed to me as a European student, and it also has a strong ranking in the league tables.
What was the best thing about your course?
How the curriculum puts strong emphasis on practical knowledge - useful in the financial services industry along with more theoretical financial models.
What/who inspired you most at LUMS and why?
The Ghosal Fund as it was where I met numerous LUMS students who are passionate about the financial world and motivated to break into the City.
Did you do a project, placement or study abroad? What did this involve and what did you gain?
I undertook a placement at Fitch Ratings. I worked within their Structured Finance division, which allowed me to learn how to analyse complex fixed-income securities along with how to work well in a team environment.
Describe your time at LUMS in three words.
Enlightening, exacting, pleasurable.
What are the best things about living in the Lancaster area?
How beautiful the countryside is, coupled with the relaxing small-town feel of Lancaster.
Which parts of your Lancaster experience were the best preparation for your job?
Most of my 3rd year modules, with particular emphasis on Financial Markets, and being involved in LUIFS [Lancaster University Investment and Finance Society] as well as the Ghosal Fund.
What impact has your Lancaster experience had on your career?
It gave me the opportunity and skills to attain a placement year which I converted into a graduate scheme to become a finance professional so early in my career.
Is there anything else about your LUMS experience that you'd like to share with us?
Take advantage of LUMS Careers from day one as they are extremely helpful in helping you land job opportunities in the competitive financial services industry.