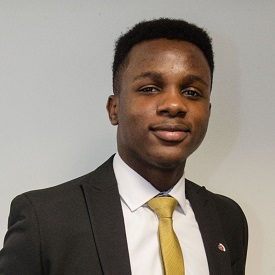 Abiola Adelabu
Country Of Origin: Nigeria
Degree: BSc Accounting and Finance (Industry), 2021
---
Analytics Consultant, Accenture
---
Why did you choose to study at LUMS?
I had been interested in studying Accounting and Finance for a long time. I decided on studying at LUMS because it was one of the highly ranked management schools in the UK.
What was the best thing about your course?
What I loved most about my degree was the experiences that it provided to me. Some of these include: taking a placement year to work for IBM in London; attending professional skills sessions to improve my CV and interview skills; meeting some of my best friends from university in group work exercises and tutorials from my degree; being provided with work experience by becoming an Academic Representative for Accounting and Finance.
What/who inspired you most at LUMS and why?
As part of my degree, I took optional modules in Entrepreneurship. In one of my Entrepreneurship lectures we had a guest speaker called Chris Cox. I remember being very inspired by Chris Cox's lecture on running a family business and his experience in being an entrepreneur and owner of a large business. Chris inspired me to learn more about entrepreneurship and also to start a podcast at university, where I interviewed entrepreneurs to discuss their journey into entrepreneurship and the vision they had for their businesses.
Did you do a project, placement or study abroad? What did this involve and what did you gain?
I took out a year from university in my third year to do a placement, which I completed at IBM in London. My placement at IBM enabled me to improve on my professional skills such as teamworking and time management. What I am most happy to have learned on my placement was that pursuing a career in analytics was something I was very interested in. I worked as a Business Analyst in the People Operations team in IBM during my placement and I found that the most fulfilling periods in my role were when I was working on data analysis. This then informed my decision to apply for analytics based roles when applying for graduate schemes.
Describe your time at LUMS in three words.
Thrilling, Growth and Diverse.
What are your best memories of your time at Lancaster?
My best memory was when I was given a scholarship by my college to go on an all-expenses paid trip to Boston College in the USA for a 2-week leadership course. This was one of my best experiences as I was able to travel to a new country, make new friends, explore new experiences, and learn valuable leadership skills all in one go.
What are the best things about living in the Lancaster area?
There was always a new place to visit in the city centre and there was always a new trail to explore in the woodland area surrounding the campus.
What impact did scholarships or funding have on your degree experience?
Scholarships and funding played a huge role in my degree experience. I received a scholarship to attend a leadership programme in the USA, and I also received funding multiple times to work on business ideas and to pay for trips to job interviews.
Which parts of your Lancaster experience were the best preparation for your job?
Being able to connect with people who had completed internships or placement years was really helpful in preparing for my job. This is because I was able to ask them questions and get advice on how to hit the ground running before starting a role.
What impact has your Lancaster experience had on your career?
My Lancaster experience has been instrumental in helping me build my professional network. I have been able to meet people through various avenues such as lectures, group work, university societies and campus events. My professional network has then been able to help me by providing application advice and also helping me to achieve any goals I set for myself. I have found that I usually know someone from my network who can help me with any problems I have.
Is there anything else about your LUMS experience that you'd like to share with us?
One thing I really appreciated was that LUMS has its own dedicated careers service in addition to the university's general careers services. This LUMS-specific careers service was able to help me by providing me with specialized support dedicated to the career path I was looking to pursue, and connecting me to people who could help and mentor me.