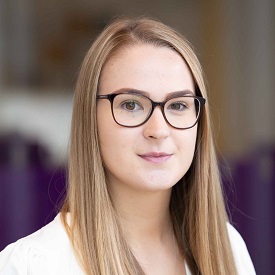 Lauren Buckley
Country Of Origin: United Kingdom
Degree: BSc Accounting and Finance (Industry), 2021
---
Tax Associate, EY
---
Why did you choose to study at LUMS?
In July 2016, I attended a two-day event at Lancaster University about cyber security and coding, run by representatives from GCHQ. Talks were presented at various lecture theatres across campus, and LUMS particularly stood out to me as a creative environment to study.
What was the best thing about your course?
The support I received from LUMS staff was incredible. The feedback I received during mock assessment centres and interviews proved invaluable when applying for placements, and undoubtedly helped me get to where I am today.
What/who inspired you most at LUMS and why?
Dr Catherine Salzedo is an asset to LUMS. Right from the start, she was there to help. For example, I had never done accounting before university, and the additional help sessions Catherine arranged were incredibly helpful. Then, whilst on placement, I knew that if I needed to contact anyone for support, there was always a friendly face. She put up with my many, many questions across my four years at Lancaster, and she deserves a medal for that alone!
Did you do a project, placement or study abroad? What did this involve and what did you gain?
In 2019/20, I completed a 12-month placement at EY in London. Working in the tax department, I helped clients plan/manage their tax affairs in relation to their cross-border transactions. If anything, it made me realise that tax is actually incredibly complicated! But it was both insightful and rewarding in terms of the experience gained and people I met along the way.
Describe your time at LUMS in three words.
Challenging, rewarding, unforgettable.