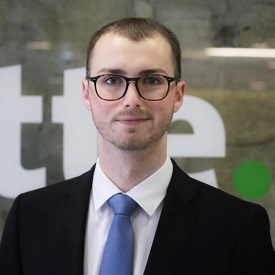 Thomas Haindl
Country Of Origin: Austria
Degree: MSc Finance, 2020
---
Corporate Finance Analyst, Deloitte
---
Why did you choose to study at LUMS?
After comparing many different finance programs, I was immediately convinced by the clear structure of the program at LUMS. Also the perfect choice of electives, the one-year duration of the program, the alignment with the CFA curriculum as well as the possibility of a scholarship for CFA Level 1 exam, and LUMS excellent position in various rankings.
What was the best thing about your course?
The best thing about my course was the opportunity to collaborate with students from all over the world, to share experiences, but also the openness and friendliness of the LUMS faculty which makes me look back with pleasure on my time at LUMS.
Describe your time at LUMS in three words.
Fun - Challenging - Valuable.
What are your best memories of your time at Lancaster?
My best memories include arriving on campus and looking forward to an exciting and unpredictable adventure, the friends and experiences I made, and the huge campus that offered everything from a sports center to shopping to pubs.
What are the best things about living in the Lancaster area?
From the University campus you can get to Lancaster very quickly, and from there to anywhere in the UK in a few hours, which makes it a perfect starting point for weekend trips.
What impact did scholarships or funding have on your degree experience?
I was very grateful to receive not only a scholarship for part of the tuition fees but also a merit-based scholarship for the CFA track of the master's program, which helped me to focus fully on my studies.
Is there anything else about your LUMS experience that you'd like to share with us?
Looking back, the time at LUMS was a challenging time due to the shortness of the program, but it was absolutely the right decision to choose the program, which has not only helped me grow professionally but also personally.