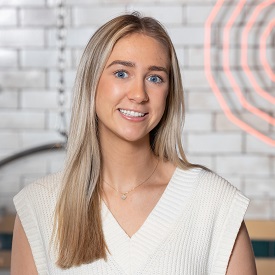 Hannah Mottram
Country Of Origin: United Kingdom
Degree: MSc Advanced Marketing Management, 2021
---
Account Executive, Social Republic
---
Why did you choose to study at LUMS?
I completed my Undergraduate degree in Advertising and Marketing at Lancaster University. I really enjoyed my experience and the quality of education was great, so wanted to further my learning by continuing on at LUMS.

What was the best thing about your course?
The lecturers and support staff are great. The content is taught in an engaging and interactive manner, making the course and assessment areas enjoyable while also challenging.

What/who inspired you most at LUMS and why?
Dr. Alan Gilchrist. Alan led a number of modules across the course and is simply fantastic. During the course we went into numerous lockdowns which was tough both academically and mentally. Throughout this time, he was very supportive and sympathetic, constantly checking in on us. Furthermore, his teaching was not only academic in nature, but he also provided extremely useful content that was important for entering the working world. The manner in which this information was taught was also excellent, with constant interaction and engagement.
Did you do a project, placement or study abroad? What did this involve and what did you gain?
For my dissertation, I completed a company-based project. Throughout the project, this entailed interacting with and liaising with a real client. It gave me hands-on experience working with a real client. Several issues arose during the project, causing changes to the research process that deviated from the original proposed plan. As a result, the project taught me how to work with a real client when things don't always go as planned.
Describe your time at LUMS in three words.
Challenging, exciting and thought-provoking.

What are your best memories of your time at Lancaster?
During my time at Lancaster University, I was heavily involved with the Swimming and Water Polo teams. I served on the committee in two roles and represented the university on multiple occasions as a member of the women's water polo team. This experience has been fantastic because it has allowed me to form new friendships with people I would not have met otherwise, via my course. It also enabled me to develop new skills outside of academia while attending university.

What are the best things about living in the Lancaster area?
Lancaster is great because everything is so close together. I enjoyed living in town because there are so many small cafes and places to visit, but it is still only a short distance to the University campus. Lancaster is also close to Manchester and the Lake District, making it easy to explore new places.
What impact did scholarships or funding have on your degree experience?
I was honoured to be awarded the Fulgoni scholarship for my Masters degree. It enabled me to finish my degree without having to worry about finances. It also boosted my confidence because receiving the scholarship demonstrated that the University believed in me and my abilities.
Which parts of your Lancaster experience were the best preparation for your job?
The best areas of the course were the critical analysis and application to real-life situations which was built into a number of modules.

What impact has your Lancaster experience had on your career?
The course has helped me build on my existing knowledge from my undergraduate degree. I have been able to apply what I have learnt to situations in my current role.