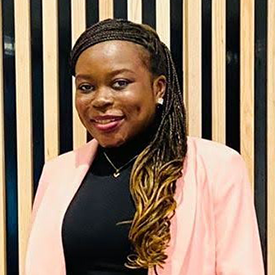 Oludemilade Adenuga
Country Of Origin: Nigeria
Degree: Full-time MBA, 2022
---
Management Consultant, Accenture
---
What did you do prior to joining the MBA?
I worked for Ernst & Young (EY) Nigeria as a Senior Associate Financial auditor.
Why did you decide to do an MBA?
I wanted a career change into Finance consulting and data analytics roles.
Why did you choose Lancaster University?
I chose Lancaster University because its MBA programme is highly ranked in the UK and globally.
What did you enjoy most about the Lancaster MBA?
I enjoyed the practicality of the modules and how they all come together like pieces of a puzzle when working on consulting projects. Also, I enjoyed all the trips such as London and the Czech Republic trips. These trips made the associated modules experiential and unforgetful.
How do you think the Lancaster MBA benefitted you?
It has helped me to understand myself more through self-awareness and reflection. Also, it provided a platform to network with people across the world and positively impact others.
What impact has your Lancaster experience had on your career?
It has shaped me in becoming a better future leader and manager. It has equipped me with a growth mindset, better presentation skills and team effectiveness.
Is there anything else about your MBA experience that you'd like to share?
I will describe my MBA experience as a journey that continues after the programme. It's a life-changing experience that one should be ready to unlearn, learn and relearn.