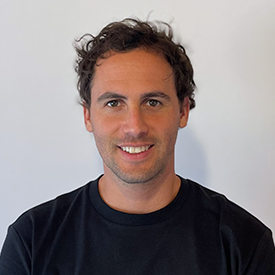 Felipe Ovalle
Country Of Origin: Chile
Degree: MSc Digital Business, Innovation and Management, 2022
---
Product Owner, Tenpo
---
Why did you choose to study at LUMS?
I chose LUMS because it appeared to have everything I was looking for: a high-ranked university, a prestigious school, exciting student life, and high-standard accommodation and facilities.
What was the best thing about your course?
The holistic approach to teaching about technology and innovation in the business context.
Who inspired you most at LUMS and why?
My peers, who came from different backgrounds and countries, and the academic staff, who were very supportive and open.
Describe your time at LUMS in three words.
Fulfilling, challenging, fun.
What are your best memories of your time at Lancaster?
Socials with peers from many different countries, doing sports on campus, and workshops with industry experts on some courses.
What are the best things about living in the Lancaster area?
It provides a perfect balance between campus, outdoor, and city lifestyles. It's well connected to most of the best places in the United Kingdom, and a one-hour train distance to Manchester International Airport.
What impact did scholarships or funding have on your degree experience?
It helped my wife and I enjoy the experience without financial stress from the beginning until the end.
Which parts of your Lancaster experience were the best preparation for your job?
The workshops in which we had to collaborate with peers to solve real-world cases and scenarios, and the guest speaker sessions in which we interacted with industry experts.
What impact has your Lancaster experience had on your career?
It allowed me to grow personally. I became more open to meeting new people. I listened and understood different ways of thinking, and got more prepared for life's challenges. Professionally, it helped me to improve my language skills, get specialised in digital business and innovation, and strengthen my leadership and teamwork skills.