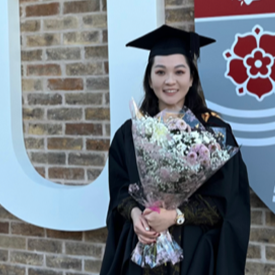 Yuhsuan Huang
Country Of Origin: Taiwan
Degree: MSc Management, 2022
---
Customer Service Assistant, Lloyds Banking Group
---
Why did you choose to study at LUMS?
Lancaster University Management School has always been famous for its world-class education with fabulous staff and facilities, which was the reason that brought me from Asia to the UK to pursue my Master's degree here.
What was the best thing about your course?
One of the most impressive parts about studying MSc Management at LUMS is that it offers a supportive and diverse learning environment, with access to academic and professional resources, and a range of extracurricular activities. For example, the MiM roundtable gave us a chance to connect with our excellent alumni who came back to LUMS to share their unique stories and journeys.
What/who inspired you most at LUMS and why?
Our Programme Director, Ruilin Zhu, has always been my role model and friend ever since I joined the MiM family. He genuinely cares about the students and always provides help to whoever is in need. His professionalism and passion for work are the characteristics I would like to develop when pursuing my career in the future.
Describe your time at LUMS in three words.
A big family.
What are the best things about living in the Lancaster area?
Lancaster is a lovely town, with friendly people and a nice living pace. It is not as big as other famous cities like Edinburgh or Manchester, but here I can focus on my studies and have a great time with my friends.
What impact did scholarships or funding have on your degree experience?
I was privileged and grateful to receive scholarships from LUMS, which was huge support that allowed me to finish my studies without having to worry about my financial conditions.
What are your best memories of your time at Lancaster?
Thanks to our programme director, we were lucky to have a leadership event outside the campus. The whole class had a day trip at Lytham Hall, where we participated in some leadership activities and enjoyed the beauty and history of the 18th-century Georgian country house. It was one of the coolest memories I have ever had!
Which parts of your Lancaster experience were the best preparation for your job?
Lancaster University provides a very diverse learning environment; and during my time studying and living here, I have had the opportunities to engage with people from all over the world, listening to their stories and learning about their cultures, which gave me preparation and confidence to work in a customer service environment at the bank.