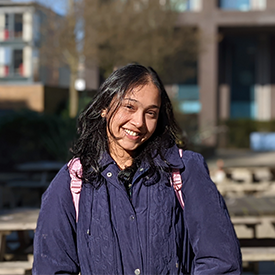 Sowmya Upadrasta
Country Of Origin: India
Degree: MSc Money, Banking and Finance, 2022
---
Platform Solutions Delivery Analyst, Goldman Sachs
---
Why did you choose to study at LUMS?
The international exposure, meeting people from different parts of the world and the opportunity to study in one of the top ranking universities in the UK were the reasons I chose LUMS.
What was the best thing about your course?
Working in teams with my classmates, the interactions with my professors and learning different concepts of economics and finance.
What/who inspired you most at LUMS and why?
My friends that I studied with who have shown incredible dedication and skills towards the subject and my professors who made sure everyone was seen and heard.
Describe your time at LUMS in three words.
Fun, challenging, memorable.
What are your best memories of your time at Lancaster?
The walks around the beautiful green campus, study sessions and group discussions with friends in the library, and enjoying a cup of coffee and a cake at The Deli.
What are the best things about living in the Lancaster area?
I was immediately in love with the huge, beautiful campus. So many walking trails, so calm and peaceful.
Which parts of your Lancaster experience were the best preparation for your job?
The independence and confidence that I gained as an international student help me handle new tasks and explore new territories at work by myself, and push me to be more confident. The experience of meeting various people from all walks of life helps me talk to other people with ease.
Is there anything else about your LUMS experience that you'd like to share with us?
The memorable experiences that I gained in Lancaster and at LUMS will stay with me forever. Every day I think about the friends I made from different parts of the world and wish them well. Studying at LUMS was a once-in-a-lifetime experience for me and if I could do it all again, I would.