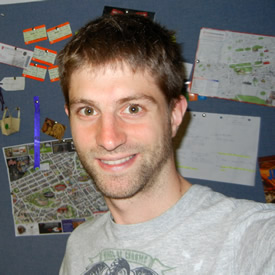 David Zochling
Country Of Origin: Austria
Degree: MSc Accounting and Financial Management, 2012
---
Audit Assistant, Deloitte Austria
---
Looking back at my time at Lancaster University, I can only say that the Management School provided me with a truly unique opportunity to further enrich my horizon both academically and personally.
After having completed my undergraduate degree in Austria, I was looking for a new challenge to extend my knowledge in Finance and Accounting, as I was not able to identify a Master's degree tailored to my needs back home.
Throughout the process of my research, I screened plenty of university websites, business school rankings, student reviews and online forums. I soon realised that Lancaster University (and especially LUMS with its Accounting and Finance Department) enjoys an outstanding reputation nationally and internationally, which was one of the main reasons why I chose to study here. Moreover, the business school was warmly recommended to me by my dissertation tutor in Vienna, which further motivated me to accept the offer to study here.
In my opinion, the high position in the rankings is definitely justified. Lectures are held by experts in their respective research areas, who are striving to deliver the contents in an interesting and understandable manner. Coursework is based around applying the studied materials in a practical context and acts therefore as a perfect complement to the lectures. Additionally, the group assignments facilitate a better understanding of cultural differences while working together on solutions for demanding problems, which I believe is a vital skill to learn before entering the job market.
Apart from their experience, lecturers and faculty staff members are highly approachable and provide help and guidance whenever it is required. Every student is treated equally and evaluated in a comprehensible and transparent way, which is by no means a given in today's academic environment. The LUMS team makes sure that everyone is feeling welcomed straight from the very beginning, making the process of moving abroad smooth and enjoyable.
The only thing left to be said is that Lancaster is a friendly, amiable place to study with lots of opportunities to meet interesting people from all over the world. Therefore I can only encourage everyone intending to do a Masters degree in the UK to come to Lancaster University. The experience I gained here is invaluable to me for my further professional career and I am confident that it will give me an edge in various different situations in my life.