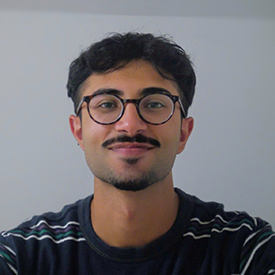 Behram Vandriwala
Country Of Origin: United Kingdom
Degree: BSc Business Management (Industry), 2023
---
Data Analyst, Sainsbury's PLC
---
Why did you choose to study at LUMS?
I chose to study at LUMS because it was triple accredited and very well ranked within the UK and in the world.
What was the best thing about your course?
The best thing about my course was the flexibility to pick modules from across each department of LUMS, as well as the placement year, which gave me lots of experience and placed me ahead of other graduates.
Did you do a project, placement or study abroad? What did this involve and what did you gain?
I undertook both a study abroad as well as a placement. My placement was with Sainsbury's PLC, where I got to experience working in London and met lots of useful contacts. My study abroad experience was with Audencia Business School in France as a summer school. This became one of my university highlights.
Describe your time at LUMS in three words.
Well-versed. Nonstop. Fulfilling.
What are your best memories of your time at Lancaster?
I have so many great memories from Lancaster which stand out, it's really too long a list to go through them all. A highlight was definitely at the end of the 2nd year when a group of 12 of us rented out a barn in the Lake District as a mini-break. This has now become an annual tradition for us all to meet up and stay as a big group of Lancaster grads.
What impact did scholarships or funding have on your degree experience?
I massively benefited from funding as I got two trips abroad almost fully funded. This was my study abroad summer school in France, and a trip to our partner university, Sunway, in Malaysia. Both were extremely fun and amazing trips courtesy of the travel fund.
Is there anything else about your LUMS experience that you'd like to share with us?
Whatever you study, just make sure to look for and seize the opportunities that are available to you. Oh and definitely bring a doorstop to uni for your room, especially for making friends with Freshers.