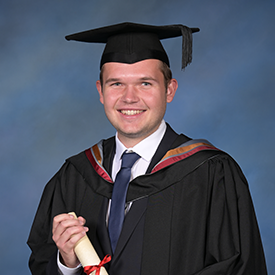 Tom Pipes
Country Of Origin: United Kingdom
Degree: BSc Business Management (Industry), 2023
---
Customer Development Graduate, Unilever
---
Why did you choose to study at LUMS?
I was familiar with Lancaster University as my sister was studying at LUMS at the time and she always spoke positively about the University and her course, so I decided to attend one of the open days. When visiting on the open day, I was impressed with the structure of the course and the support services available. In addition to the lovely campus and extra opportunities to get involved in, it was a no-brainer!
What was the best thing about your course?
The flexibility of the course has been invaluable. The opportunity to undertake a wide array of modules has allowed me to learn all aspects of business, which allowed me to find what I was most interested in and therefore specialise in those areas towards the end of my degree.
What/who inspired you most at LUMS and why?
My lecturers such as Jekaterina Rindt and Jenni Carter, in addition to the LUMS Placement Team who went above and beyond to share their knowledge and experience to really help me find my passion and career path.
Did you do a project, placement or study abroad? What did this involve and what did you gain?
I undertook a 12-month placement at Unilever in the Supply Chain Function within the IT Procurement team. My role involved working with suppliers to secure and renew contracts, all whilst ensuring we were capturing value and savings along the way. I had to build quick relationships and negotiate to ensure the best outcome for all parties. Through this experience, I was able to grow my network both personally and professionally whilst also developing my commercial acumen and corporate resilience. Ultimately resulting in me securing a position to return to Unilever as a Customer Development Graduate.
Describe your time at LUMS in three words.
Insightful, enthralling, valuable.
What are your best memories of your time at Lancaster?
My most notable memories are getting involved in extra opportunities, such as joining my college football team and being a Student Ambassador, where I was able to make great friends. I have shared so many good times with people from my college, course, and societies, so putting myself out of my comfort zone ensured I captured the best experience.
What are the best things about living in the Lancaster area?
It is a safe area, with the campus being a short bus journey from the city centre. There is lots to do, such as going to Williamson Park or heading into town at night for drinks with friends. Or even heading to Morecambe and the Lake District which are all accessible by bus or train.
Which parts of your Lancaster experience were the best preparation for your job?
Getting involved in every opportunity the University offers boosted my confidence, which makes it easier to settle into working life. My placement year provided me with a real insight into what roles I may prefer in my future career and with the consistent guidance of the career services, I feel I have obtained relevant skills and experience to ensure I can succeed in my new position.