Lancaster University Management School celebrates Dean's Awards 2023
---
Lancaster University Management School celebrated the staff and students whose efforts go above and beyond the call of duty at the 2023 Dean's Awards.
Nine individual awards and four for teams were handed out by Executive Dean Professor Claire Leitch at a ceremony in the LUMS Hub.
Academic and professional services staff, as well as LUMS students, were recognised for their achievements and contributions to the School over the last 12 months, with more than 80 people recognised (including the whole Department of Organisation, Work and Technology [OWT]).
"The Dean's Awards are a wonderful way for us to recognise the fantastic efforts of our colleagues across the School," said Professor Leitch. "All of the award winners – as well as the many others who were nominated – have contributed to the continued success of LUMS in the last year.
"We received a great response to the call for nominations, demonstrating clearly the level of commitment to the success of the School and our growing community."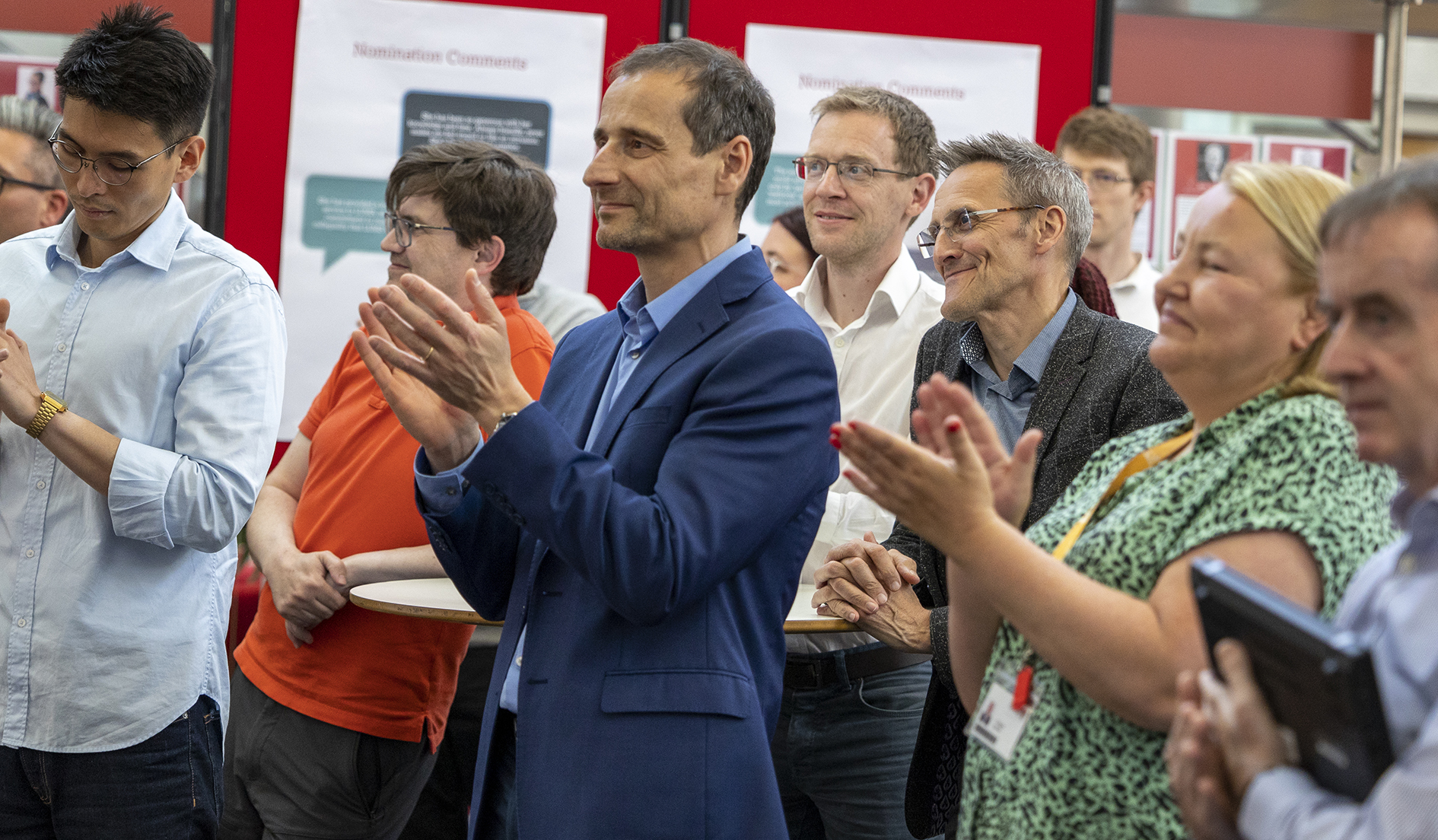 There were two special awards presented on the day, in memory of former LUMS colleagues Professor Jeffrey Unerman and Professor Alistair Anderson.
The Professor Jeffrey Unerman Award is presented to a member of the School who has demonstrated exemplary responsibility – to the School, to our students, or to the planet. This year, it was presented to Dr Nonhlanhla Dube for her contributions to the School and University Race Equality and Gender Equality Strategies, and her role as co-founder of SWAN (Southern Women Academics Network), including organising and performing in a fund-raising concert.
The Professor Alistair Anderson Award recognises community, mentorship, and entrepreneurial students, and this year was presented to two winners: Bev Moss and Emma Watton. Bev's award was in appreciation of her work leading an unofficial support network for new staff across LUMS and FASS. Emma's award was for her contribution to the growth of the LUMS community, most recently as Director of the Executive MBA.
Three of awards were made to colleagues in recognition of the significant personal support they provided to other members of the LUMS community. These went to Kim Barrington, OWT, and Mariana Zerbin and Apisara Khli-In.
The full list of winners is as follows:
The Professor Jeffrey Unerman Award: Nonhlanhla Dube.
The Professor Alistair Anderson Award (two awards): Bev Moss and Emma Watton.
Academic Winners:
Beth Suttill; Ruilin Zhu.
Professional Services Winners:
Paula Ainsworth; Paul Farley; Kim Barrington; Mariana Zerbin and Apisara Khli-In.
Honourable Mention: Teresa Aldren.
Team Winners:
CeTAD Apprenticeship Team (Debbie Simpson, Ellie Fowler, Steph Oliphant, Donna Fisher, Kerry Armstrong, Pete Kessell, Ashley Ellis, Liz Vidler, Fiona Salthouse, ably aided by Emma Watton).
New Ventures Strategic Team (Burak Boyaci, Jackie Clifton, Stephen Eldridge, Amjad Fayoumi, Linda Hendry and Kostas Selviaridis).
Organisation, Work and Technology Department.
Honourable mentions: BSc Marketing Team (Holly Atkinson, Belen Bruce, Debbie Denton, Richard Meek, Jekaterina Rindt, Mariana Zerbin, Yvonne Nuttall).
PGT Team, Marketing Department (Sandra Awanis, Chihling Liu, Gaynor Cannon, Matthew Wilson, Emre Tarim, Jekaterina Rindt).
EQUIS Writing Retreat Team (Desna Mackenzie, Jan Bebbington, Laura Premack, Paul Turner, Paula Ainsworth, Gill Peers, Martin Spring).
Student Award:
EQUIS 2023 Student Report Group (Timpau Mihaela, Lyea Rivers, Barnaby Roberts, Polina Markova, Aman Dhir, Luyoujia Gu, Shreya Haldankar, Yun Xi, Matthew Liddle, Zhao Shibo, Natalie Ng Pui Ying, Jonathan Kyereh-Mireku, Akshata Pandey - representatives pictured below).

Back to News