Solution State NMR
The solution state NMR facilities are located in A74 (access via A73) Faraday Building, and are used for both research and teaching.
The instruments are run in open access mode 24-7, but users must have suitable training before being allowed access to the NMR suites, so contact Dr Geoffrey Akien beforehand. Trained undergraduates can access the space by themselves from 9 am-5 pm, Monday to Friday, but must be supervised outside of these hours.
During peak hours (Monday to Friday, 8 am-6 pm) the maximum time allowed per experiment is 15 minutes, although users may have more than one of this per sample. To maintain responsive access for others, the "Priority" ability is enabled for all users. At busy times of the year, the peak/off-peak timings may change to maximise throughput of samples.
Liquid nitrogen fills are generally carried out every Monday morning, but one instrument will always be available for immediate use. Liquid helium fills take place approximately every 5-6 months, and users will be advised by email when these take place, and if there are any other scheduled interruptions. A list of activity is also maintained on the Chemistry Booking System.
Users can contact Dr Geoffrey Akien at any time, or alternatively, concerns can be raised through the NMR Management Group via Dr Michael Coogan.
Bookings
Bruker AVANCE III 400 - using the timetable you can view busy times, or book a time if you have been given the permissions to do so
Bruker Fourier 300 - if you wish to use the 300 for your own experiments you can always use the Priority button to jump the queue and run your sample immediately
Research - Bruker AVANCE III 400
The Bruker AVANCE III 400 (NanoBay) is fitted with a 5 mm 1H-X broadband observe (BBO, 109Ag-19F) RT probe, and is currently equipped with a 60-position SampleXpress autosampler. The instrument is currently controlled with TopSpin 3.6.2 on Windows 10. It is primarily intended for research use, but from time to time it is also used for undergraduate teaching.
Owing to the higher sensitivity of the 400 compared to the 300, several of the longer experiments (e.g. carbon, HMBC) have versions appended with the ".fast" suffix so that they will run in less than 15 minutes each and so fit within daytime limits. Note that these will only give good-quality spectra if your sample is concentrated enough - 10-20 mg in 0.6 ml solvent is a reasonable concentration to use for this.
A wide variety of experiments are configured to run in automation, but if there's something missing just ask!
1

H - qualitative and quantitative

1

H with automated single and multiple solvent suppression
1H with X-decoupling
DOSY

13

C (and up to 75 °C), DEPT135
COSY
TOCSY
edited HSQC
HMBC, H2BC
NOESY, ROESY
A variety of experiments up to 75 °C in day-to-day automation, and 150 °C with special permission
Support for a variety of X-nuclei including

2

H,

7

Li,

10

B,

11

B, 14N, 15N,

19

F, 23Na, 27Al,

29

Si,

31

P, 33S, 45Sc, 77Se,

89

Y,

99

Ru (out of automation only), 111Cd, 113Cd,

119

Sn, 121Sb, 123Sb, 127I, 133Cs,

195

Pt. For most spin-1/2 nuclei experiments 1H,X-HMBC 2D spectra are also available, and usually the better choice.
To access sub-ambient temperatures we need to replace the normal VT gas with a liquid nitrogen evaporator, so these must be run out of automation - to book time please visit SharePoint. We haven't needed to go this low yet, but the minimum temperature attainable is estimated to be substantially lower than -100 °C.
The maximum temperature possible for the BBO probe is 180 °C, but for safety and various experimental reasons anything above 75 °C requires special permissions.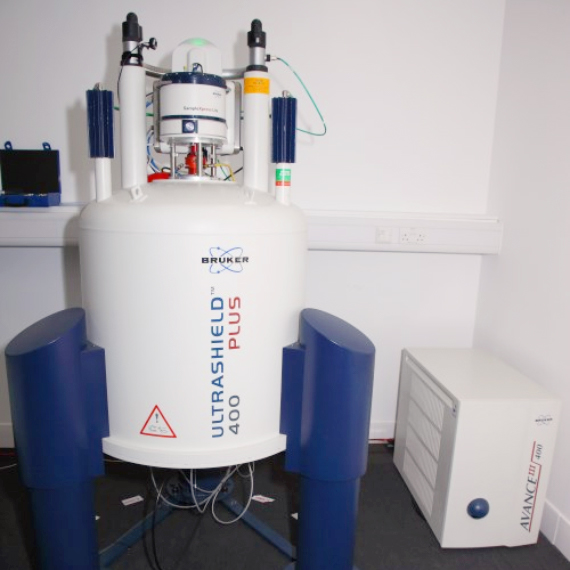 Teaching - Bruker Fourier 300
The Bruker Fourier 300 (MHz) instrument is fitted with a 5 mm 1H/13C-observe probe (DUL/ES) currently equipped with a 16-position SampleXpress Lite autosampler. The instrument is controlled using TopSpin 3.2pl7 on Windows 10. The primary use of this is for teaching, but research samples can be run on this at any time.
Currently configured experiments in automation:
1

H - qualitative and quantitative

1

H with automated single solvent suppression (composite pulse with presaturation)

1

H up to 65 °C

13

C, DEPT135

2

H
COSY (magnitude and phase-sensitive)
TOCSY
Edited HSQC, HMBC
NOESY, ROESY
DOSY has been partially implemented if you really need it, but you will get far more satisfying data on the 400.
The sensitivity of the 300 is about half of the 400, so that there are no pre-configured ".fast" versions of experiments. However, parameters can still be manually adjusted to fit into the 15 minute daytime limits if necessary.
Owing to differences between the 300 and the 400, the 300 is not recommended for use with deuterated solvents with more than one peak, with the exception of MeOH-d4 and toluene-d8 which have workarounds in place.
Note that during term-time sample holders 1-45 are sometimes in use for undergraduate samples, and a sign will be attached to the front of the autosampler so you know to not use these.
Consumables and other equipment
Also available for communal use are:
Limited amounts of inherited "vintage" NMR solvents for routine applications
Specialist solvents and additives.
Coaxial inserts for external referencing
Amberised tubes for light-sensitive samples
Screw-cap and "Young's"-type tubes for air-sensitive samples
3 mm and 4 mm tubes and suitable spinners
5 mm Shigemi tubes for small samples, matched for either CDCl3 or D2O (both normal and "advanced")
FEP tube liners for corrosive samples
Aluminium NMR tube heating block with thermocouple well for use with stirrer hotplates
Butane torch for flame-sealing tubes
Heat guns
Ultrasonic bath
Vortexer
Mini centrifuge
Eppendorf mechanical pipettes and tips: 0.5-10 μl, 10-100 μl, 100-1000 μl
If there's something that we don't have that you think would be worthwhile for the Department, let us know and we can look into buying it in for communal use.