News and Funding Opportunities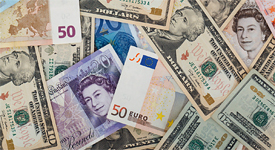 Research Calls and Opportunities
Please click here for the latest Research Calls and Funding Opportunities.
Calls and Opportunities
This section is routinely updated with news and announcements from Research Services, including training dates, new services and upcoming events.
New Due Diligence and acceptance of funding policy
The University has a revised due diligence process for research and enterprise activities and a new policy on acceptance of funding for external research and enterprise activities.
Lancaster University places great value on our collaborative partnerships as these enrich our research and teaching. As a responsible research organisation, we need to understand who we are partnering with and assess any reputational, financial and operational risks involved. Additionally, there is increasing emphasis on Trusted Research and Innovation and national security and we are required to have policies and processes for appropriate and proportionate risk-based due diligence on international partnerships and collaborations.
Our due diligence process is designed to assess and mitigate potential risks and provide assurance that partner organisations outside of the UK have the capacity, probity and expertise to carry out the activities requested of them. The RES website had further details on the due diligence process as well as information and guidance on Trusted Research and Innovation, Export Controls and due diligence. RES staff can also provide support and guidance so please contact them for information.
September webinar: UKRIO, Correcting the scholarly record and dispelling the myths around corrections
UKRIO - UK Research Integrity Office is running a free webinar on Wednesday 20th September from 10:00 - 11:00 BST.
A core part of publication ethics is the correction of published research affected by errors or misconduct.
This webinar aims to explain both the process of fixing errors and misconceptions about corrections, focusing on journal articles, and answering the questions:
Who decides what needs to be corrected?
What are the responsibilities of editors, journals, research institutions, and authors?
How are corrections done and what form do they take?
How do readers know when work has been corrected?
What are the barriers to correcting the scholarly literature – and, hopefully, the solutions to these problems?
Led by expert speakers, this session will draw on their experience in handling corrections and developing editorial policies.
Speakers
Lauren Flintoft,Research Integrity Officer, IOP Publishing
Gráinne McNamara, Research Integrity/Publication Ethics Manager, Karger Publishers
Webinars are free and open to all. Please share this event with anyone who may be interested in research integrity and ethics, good research practice and improving research culture and misconduct.
If you are interested please register for the UKRIO webinar.