Year in Industry Opportunities
A 12 month placement is a fantastic way for your organisation to gain tailored support to recruit a high-calibre, motivated student to join your team.
Recruitment
The Faculty of Science and Technology at Lancaster University is offering your organisation the opportunity to recruit individuals with STEM (Science, Technology, Engineering and Mathematics) skills for periods of approximately 12 months, either as recent graduates or current students who are taking a 'sandwich year' as part of their studies. This forms the basis of our structured industrial placements programme. Principles of the Scheme
Our high-calibre students are regarded by employers as capable, highly motivated and commercially aware, and their placements are often one of the highlights of their studies.
The Science and Technology scheme has been founded on the following principles that we believe help shape it into a programme that can suit your organisation:
Quality: We recognise that your organisation and investment requires quality people- Lancaster University is an internationally recognised institution and ranks in the Top 10 in all major UK League tables.
Tailored: We understand that each organisation is different, with a range of needs and budgets. We will work with you to understand your priorities and aim to deliver the most apt talent possible.
Collaborative: Our experience is that the outcomes are best delivered when two organisations work in partnership from the outset. This scheme is built on a two way commitment and we will work closely with your organisation throughout the process to ensure the experience is a success for all parties involved.
Student Feedback
"I really enjoyed the practical working experience which is exactly what I came here to do. I've thrown myself head first into a project which has grown arms and legs as it's unfurled and incorporated many different elements into it. A perfect learning experience."
Martin Paley, BSc Hons Earth and Environmental Science (Study Abroad), Previous Year in Industry Student Benefits to Your Organisation
Unique access to channels of talented students with the knowledge and skills to support your business growth;
Student placements can provide a dedicated resource to undertake bespoke projects, offer additional resource for upcoming work or even a combination thereof;
Placements provide you with the opportunity to 'test-drive' individuals and their fit with your organisation before making any long-term employment commitments;
We can manage the full recruitment process for you including the advertisement and promotion of opportunities, collation of applications and we can offer a first-line interview service to ensure you are presented with the most suitable candidates;
We offer support to our students in preparation for their work placement to ensure they are work ready;
Due to a specialist in house team at Lancaster University there is no requirement for you to take students onto your books as our team can take care of temporary payroll services including employment documents and a monthly payroll;
We take care of all the finer details to facilitate, monitor and co-ordinate all of our placements, so that you can concentrate on maximising the benefits of our students' expertise and fresh perspectives;
Use this as a platform to explore further opportunities to engage with us for activities such as student projects, collaborative research, joint funding applications and CPD.
Employer Feedback
"With Lancaster University on our doorstep it made complete sense to forge stronger links. This is our third year of work with the university and the number of connections from industrial placements, to work with postgraduate research students is increasing each year.
"This is now beginning to feed through to high-quality employees for Heysham 2."
Ian Haines, Fuel Route Manager for Heysham 2, EDF Energy
Timescales
Current students are available from mid/late June each year, and placements must end in time for them to return to their course at the end of September the following year. If you are looking to recruit a graduate this can be facilitated all year round but a start date in summer is generally expected.
Costs
Students are usually paid a wage of between £15,500 and £22,000 per year, depending on location.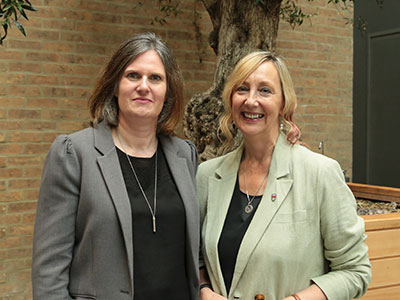 Talk to us Now
For more information on the Year in Industry opportunities, please contact the Student Engagement Team: Pam Pickles and Rachael Sterrett.