Student Engagement
Access over 4,200 science and technology students through internships, careers fairs, collaborative research projects, year in industry programmes, volunteering programmes and recruitment services.
Our Expertise
Your organisation can access expertise from across our science and technology disciplines. These include biological and environmental sciences, computer science, communications systems, chemistry, a range of engineering disciplines, geography, mathematics and statistics, physics, and psychology.
As well as their chosen degree subject, our students are skilled in problem solving, analysis, critical reflection, oral and written communications, and negotiation. We evaluate the needs of each organisation and match these to the appropriate student through a competitive process.
Access over 4,200 science and technology students
Over 500 student partnerships a year
Over 200 businesses supported through our Internship Programme
Ways to Engage
We offer a wide range of opportunities for you to meet, work with and recruit skilled science and technology students and graduates.
Help cover during busy periods, trial new roles or research a new idea through our internships programme.

Contact our Student Employability Team to showcase your organisation to our students.

Find out more about Knowledge Transfer Partnerships (KTP) UK-wide programme that has been helping businesses for over 40 years.
Our Psychology undergraduate students volunteer with local and national organisations.

A 12 month placement is a fantastic way for your organisation to gain tailored support to recruit a high-calibre, motivated student to join your team.

Break barriers to innovation and explore commercial opportunities by providing a project for our Masters and PhDs students.
Other Services
Whether you want to develop a new product, compete in a new market, enhance your organisation's performance, tap into our diverse skill-set, or work alongside us in world-leading facilities, we have the expertise and resources you need.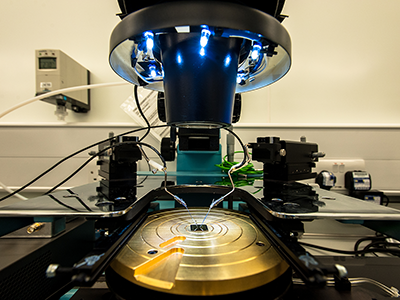 £11.4m new business programmes
Register interest now in our new fully funded business programmes:
The £4.9m Next Gen Chem programme will enable Lancashire chemical-using SMEs to innovate using 'next generation' chemistry.
The £4.4m Greater Innovation for Smart Material Optimisation (GISMO) programme offers Cheshire and Warrington SMEs access to research and development expertise and specialist technology to solve industry-driven challenges through innovations in 'smart' materials.
The £2.1m Lancashire Cyber Foundry programme offers the opportunity for SMEs to increase their awareness of cyber security technologies and explore the development of new digital products and services using technology to innovate.
All three programmes are fully funded for eligible SMEs, as they are part-financed by the European Regional Development Fund (ERDF) and Lancaster University.
£11.4m New Business Programmes