Collaborative Research and Innovation
Let us realise your ambitions for business growth.
Gain Competitive Advantage through New Skills and Expertise
Our research is solution driven for business growth. Our award-winning Partnerships and Business Engagement Team will connect you quickly to the people who have the skills and knowledge you need to achieve your business goals.
Over 700 staff and 600 research students
We produce 70% of research at Lancaster University
Our specialist team can identify expertise, resources and potential funding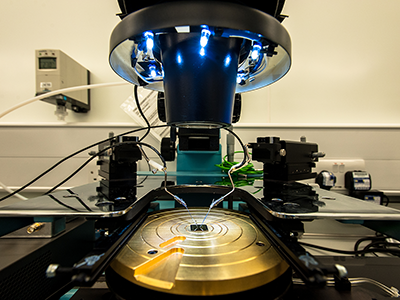 £11.4m new business programmes
Register interest now in our new fully funded business programmes:
The £4.9m Next Gen Chem programme will enable Lancashire chemical-using SMEs to innovate using 'next generation' chemistry.
The £4.4m Greater Innovation for Smart Material Optimisation (GISMO) programme offers Cheshire and Warrington SMEs access to research and development expertise and specialist technology to solve industry-driven challenges through innovations in 'smart' materials.
The £2.1m Lancashire Cyber Foundry programme offers the opportunity for SMEs to increase their awareness of cyber security technologies and explore the development of new digital products and services using technology to innovate.
All three programmes are fully funded for eligible SMEs, as they are part funded by the European Regional Development Fund (ERDF) and Lancaster University.
Read more
Research Expertise
Our research is rated world leading according to the Research Excellence Framework, which assesses the quality and impact of research by UK universities. Our Partnerships and Business Engagement Team focuses on three areas of expertise to help organisations tap into our diverse skills set.
Mathematics and Statistics
The faculty also hosts one of the most industrially-engaged mathematics and statistics departments in the UK. The department has strong collaborative links with the medical research industry in the design of novel trials through the Medical and Pharmaceutical Statistics research unit and leads the delivery of the STORi Centre for Doctoral Training with approximately 30 industry co-sponsored PhD students. The department is also host to multiple industrially co-supported research projects and is always keen to develop further collaborative links.
Our Research Centres and Institutes
We also host a number of research centres that work with the University to further scientific knowledge and translate it into applicable solutions for the economy and environment:
Our Partners
We pride ourselves on developing sustainable relationships with industry. In particular, we have been recognised by government and received national awards for our engagement with small and medium enterprises.
Our partnerships extend beyond business and include a diverse range of public and private sector organisations at regional, national and international level. These range from NHS Trusts and Police Forces to Local Authorities, UK and International Governments.
These partners include: Case Study: Yordas Group
"Yordas would not have been formed without the strategic support provided by LEC and would not be sustainable without the resources made available through locating on the campus. There are tremendous benefits from locating at the university in terms of the quality of people which we are able to work with, enabling us to utilise the specialist knowledge that the university can provide."
Jonathan Lutwyche, CEO of Yordas Group


Other Services
Whether you want to develop a new product, compete in a new market, enhance your organisation's performance, tap into our diverse skill-set, or work alongside us in world-leading facilities, we have the expertise and resources you need. Talk to us Now
If you have an idea or challenge you want to talk through or need us to help scope the project for, you can register your interest here and one of our team will contact you.
Alternatively, if you wish to send an email, please contact:
Sarah MillsOperations Manager
+44 (0)7811832770sarah.mills@lancaster.ac.uk