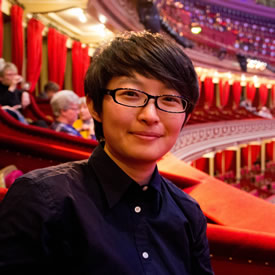 Zhifang Zhang
Country Of Origin: China
Degree: PhD Accounting & Finance, 2017
---
Lecturer in Accounting, Essex Business School
---
Why did you chose to undertake your doctoral research at LUMS?
When I decided to pursue my academic career to the next level, Lancaster University Management School was the only institution I have considered. This is because I enjoyed my time at Lancaster when I did my foundation, undergraduate and master degree and I am confident that the PhD Programme in Accounting and Finance at Lancaster University Management School will enable me to develop essential skillset as a researcher.
What your doctoral research was about?
My PhD thesis consists of two papers which examine the determinants of executive compensation. The first paper, "Compensation Consultant and CEO Pay: UK Evidence" (with Martin Conyon, Lars Helge Hass, Simon Peck, and Graham Sadler) investigates the relation between compensation consultants, CEO pay and incentives. The second paper, "Foreign Experience and CEO Compensation" (with Martin Conyon, Lars Helge Hass and Skralan Vergauwe) investigates the relation between foreign experience and CEO compensation. Foreign experience is one of the main sets of top managers' characteristics in upper echelons literature. Apart from my PhD thesis, I have the opportunity to work on CFA Executive Compensation Report "Measuring and Rewarding Performance: Theory and Evidence in Relation to Executive Compensation" (with Lars Helge Hass, Jiancheng Liu and Steven Young), which was featured as a leading story in the Financial Times. Moreover, I co-authored a book chapter "Corporate Fraud and Bank Loan Contracting: Chinese Evidence" (with Lars Helge Hass and Maximilian Müller) and a related paper "State-Ownership and Bank Loan Contracting: Evidence from Corporate Fraud" (with Lars Helge Hass and Skralan Vergauwe) was published before I complete my PhD study.
What the environment for PhD students is like?
My supervisors (Professor Martin Conyon, Dr Lars Helge Hass and Dr Skralan Vergauwe) provided valuable guidance throughout my PhD research endeavours. The department of Accounting and Finance also provides great support to PhD students in terms of both research and teaching. The staff are friendly and helpful. One thing I really enjoy is the regular weekly research seminars organised by the department, as it enables me to keep up with the latest research topics. Also, meeting with these seminar speakers provided me valuable opportunities to discuss my research with well-known scholars around the world.
What did you like about living in Lancaster?
Lancaster is a wonderful small city to live in. It has all the essential facilities such as cinema, gym, shopping centre, etc. It is also closed to Manchester Airport which facilitates my international research communication. I spent 8 years living at Lancaster and I enjoyed every second of it.
Next career steps:
After finishing my PhD study, I joined Essex Business School as a Lecturer in Accounting. The PhD study at Lancaster University Management School has enabled me to develop my research and teaching skills, to work independently and in a team, and to develop external networks, which will be beneficial for my whole life.