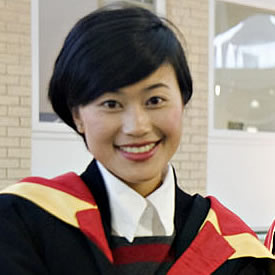 Junhan Lei
Country Of Origin: China
Degree: MSc Money, Banking and Finance, 2013
---
Card Service Banker, Citibank China
---
I was originally drawn to Lancaster University by its top-ten standing within the UK and its very good international reputation. It was only later that I became aware of its brilliant facilities and nice campus.
My Masters year was rich and full of challenges. After completing the MSc in Money, Banking and Finance (MBF) programme, I am more mature, calm and patient.
The flexibility in the MBF programme's first two terms is noteworthy, as you can choose electives from across the Economics Department and the Accounting and Finance Department. Although the programme is based in the Department of Economics, it is taught jointly with Accounting and Finance by some excellent, approachable, friendly and helpful professors and lecturers.
From the standpoint of a student who wants to get a job in the banking industry, I found that the modules on Economics for MBF, International Banking and Risk Management, and Exchange Rates and International Finance were particularly useful in helping me develop knowledge and skills with not only academic relevance but also practical relevance.
A significant part of the programme is the dissertation work undertaken in the third term with the guidance of a supervisor. It involves learning to competently apply and interpret analytical and econometric estimation techniques using software such as Eviews, Stata and Limdep.
Aside from the formal academic requirements of the programme, it was personally very rewarding – not to mention an honour in itself – to act as the course representative for the 2012-13 cohort. As a byproduct of carrying out this role, I found that my time-management, organisation and communication skills were honed and enhanced. And more than this, it offered me another avenue for engaging with and demonstrating commitment to my studies and academic life more generally.
Overall, I would like to say a huge personal thanks to Lancaster University, LUMS and the people involved in the MBF programme, since it definitely benefited my career development as I am now in the job I wanted, employed by Citibank China Co., Ltd.