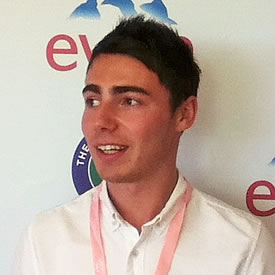 Ben Kind
Country Of Origin: United Kingdom
Degree: BSc Marketing Management, 2015
Ben spent his placement year working as a Shopper Marketing Executive with Danone Waters.
For me the motivation behind doing a placement year was to gain a broader insight into what a career in Marketing would involve. After two years at University I felt it would be a great opportunity to apply what I'd learnt in a real life business environment, and also develop key skills which I could then utilise in my final year of studies at Lancaster.
Danone Waters are a leading FMCG company owning brands such as evian, Volvic and Badoit. For my placement year I worked within the Shopper Marketing team, working closely with design agencies to design and produce Point of Sale (POS) material. Working within a small team of just 3 or 4 people, I was given lots of responsibility from the outset and even appointed brand lead on Badoit. I was assigned personal accountability for the design of online banners and trade advertisements, whilst managing all aspects of the team's budget. I was also given the opportunity to work on key internal projects such as the launch of the company's new Category Vision. In summary, Danone don't treat you like a placement student; they treat you as an actual employee.
My placement year at Danone was a thoroughly enjoyable and truly invaluable experience, and one which I would recommend to all 2nd year students at Lancaster University. Coming into the role with little previous experience, I developed a number of key skills and such as presenting in front of large audiences and managing relationships with different stakeholders. I also learnt a great deal about what a career in FMCG would entail; providing an industry understanding that will help me when considering my future career options.
What made my placement year at Danone most enjoyable was the people I was working with. The average age at the company was just 26, and with only 100 employees at the head office there was a real close-knit feel within the company. My desk was about 5 yards away from the Sales Director, and you could literally go up to anybody in the company to ask them a question and they would always be happy to help.
My application to Danone stemmed entirely from the LUMS Careers Team. I saw an email saying that Danone were coming to campus to run a series of psychometric tests and decided to sign up, and within a month I'd secured a job with the company. I would strongly advise all prospective placement students to attend these types of events with employers and really make the most of these great opportunities provided by the LUMS Careers Team.
I am hoping to return to Danone following the completion of my final year. Undertaking a placement year has enabled me to build relationships with several current employees at the company, and I hope the placement year will put me in a stronger position to secure future employment with the company.