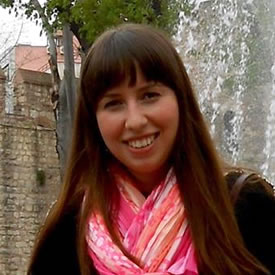 Afra Franzkowiak
Country Of Origin: Germany
Degree: MSc Advanced Marketing Management, 2014
---
Sales Excellence Consultant, Siemens Healthcare
---
Prior to starting the Advanced Marketing Management MSc programme at Lancaster, I studied a dual-award bachelor's degree in International Business at the Berlin School of Economics and Law and the Lord Ashcroft International Business School in Cambridge.
My undergraduate degree offered a variety of courses, from accounting to marketing, and my one-year placement at Siemens Healthcare in the United States helped me shape my decision to pursue a career in marketing management.
During my internship I gained experience in Support Project Management and worked in a dynamic team which allowed me to reach out to and come into contact with business clients. Staying with the company in Germany, I extended my work experience and took over responsibility for a nationwide roadshow during the last year of my undergraduate studies. I enjoyed working in a great team and learned fast, but this work experience made me realise that I was still lacking the necessary tools and skills to be able to advance to an executive position.
When I looked at Masters programmes in Europe, the MSc Advanced Marketing Management stood out as it combines theory and practice like no other marketing degree I found.
During the first weeks, the MSc seemed very challenging, as it took me out of my comfort zone. It not only demanded that I coordinate many different tasks simultaneously, but also required me to adapt to a different mindset which helped me to advance personally.
For example, I learned a lot about myself, and how to reflect even if time was restricted. One of the highlights during this year was to be able to join part of the MBA course with Kevin Roberts (CEO of Saatchi & Saatchi Worldwide), which was followed by a company-based dissertation with Saatchi & Saatchi's London office. I believe that it was only by working with and learning from some of the best marketing academics in the world that I was able to succeed – not only at Masters level but also in getting my new job at Siemens Healthcare.
Although I had already gained work experience at Siemens and had a big network, I felt that I needed a new challenge which required me to go through a multi-level selection process consisting of an online application, phone interview, assessment centre and interviews within different departments. Knowing that the job market is quite tough, I felt the MSc provided me with the necessary skills to conduct all negotiations. I am now part of a two-year executive programme for future leaders and have signed a long-term contract with the firm. I am part of a team of experts who come from all over the world and I can learn first-hand from them, while I will take on my own strategic projects.
The MSc was a valuable experience which provided me with the tools and skills to advance in my career. The MSc Advanced Marketing Management is like a boot camp for succeeding as a marketing manager in today's business world.