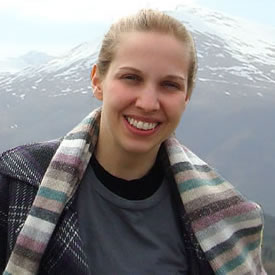 Juliana Santos
Country Of Origin: Brazil
Degree: PhD Management Science, 2013
---
Assistant Professor, Centro Universitário da FEI
---
After studying for a BA in Business and an MSc in Operations Management in Brazil, I decided to pursue an academic career and do my PhD abroad. Since I've always loved the UK, I focused my search on the best business schools in England, taking into account the rankings and the interests of the researchers. I did consider other universities besides Lancaster, but one of the research interests of Professor Martin Spring caught my attention because it was exactly what I wanted to study at that time. The Management Science department at LUMS also believed in me and offered me a scholarship to fully fund my PhD.
I arrived in Lancaster in September 2009 to begin my studies and it was really easy to get used to living there. People were friendly and welcoming and I met people from different backgrounds and cultures. The city combined an easy access to everything needed with the calm lifestyle of the countryside. Lancaster University provided a fruitful research environment and the classes were exciting and challenging. Life on campus was also very enjoyable.
As in any PhD, the scope of my thesis wasn't always so clear and I struggled to find the right path. However, the Management Science Department provided all the resources I needed and sponsored my participation in conferences, which was essential to shape my research project. Professor Martin Spring, my supervisor, was also very supportive and guided me throughout my studies. He taught me what it means to be a good researcher and I will always be grateful to him.
The focus of my studies was Expert Services provided for business markets, like engineering, software development, and technical advisory services. In my thesis, I´ve imported the concept of expertise from the psychology field to obtain a refined view on the nature of Expert Services and, in this way, improve our ability to manage them, and to improve the processes by which they are delivered. I did my best to produce a good-quality thesis and am proud to say that my thesis won the 2013 Emerald/EFMD Outstanding Doctoral Research Award.
I´m back to Brazil, were I work as Assistant Professor in Markets and Competitiveness at Centro Universitário da FEI. I also retain a position as Visiting Researcher at LUMS. Aspects of my research have already been published in leading journals and I still work with Martin Spring and other colleagues I met during my PhD. My experience at Lancaster University and at the Management Science Department was essential to secure my current academic position and give this initial boost to my career.