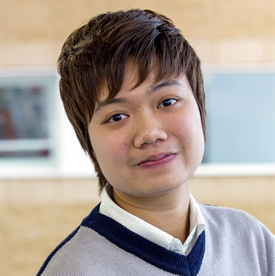 Hoai Nguyen
Country Of Origin: Vietnam
Degree: MA Human Resources and Consulting, 2015
---
Management Trainee, Unilever (Vietnam)
---
I chose to study at LUMS because I wanted the chance to study at one of the top 10 Universities in the UK, in a department run by highly qualified professors. I was also attracted to Lancaster because both the University and the city are relatively affordable, and the environment is friendly. As an international student I found those qualities to be particularly desirable.
During my Master's degree in Human Resources & Consulting I particularly enjoyed writing my dissertation. The exercise was both challenging and difficult, but ultimately I found this to be the most valuable part of my degree as it enabled me to develop my understanding in the areas of particular interest to me, as well as my independence and self-confidence. My supervisor was always available to provide support, and so despite the challenges I did not feel alone!
The aspects of the non-academic side of university life that I enjoyed most involved social events and activities both on campus and in Lancaster. I particularly enjoyed dinners and BBQs with my classmates organised by our department and course representatives, and also the live music nights and festivals that took place both on campus and in town. The student body at Lancaster is very diverse, and that's what made the social events even more interesting.
As part of my course I completed two practical consulting projects: one for Airbus and the other for Barnaby's, which is a UK-based charity. I was part of a group of students from a range of different countries, and we acted as consultants in order to create solutions for each of the companies. This was a hugely valuable experience as it taught me how to apply the information that I had learned in an academic setting in a practical way, for the benefit of real companies as well as for myself. I was able to develop a whole range of essential skills, including team work, leadership and communication, and at the same time I was able to make new friends.
I truly believe that my decision to come to the UK in order to study at Lancaster University was one of the best decisions I've ever made. I felt completely at home there.
I received £4,000 in funding to study at Lancaster, which provided a huge incentive for me to do my very best throughout the course. I wanted to prove that I was worthy of the scholarship that I had received.
As well as completing my academic assignments I also took part in a number of workshops and presentations arranged by the LUMS Careers Team, as I was very keen to learn new skills, to develop existing skills and to learn more about how companies operate in the 'real' world. Some of these careers events were delivered by the LUMS Careers Team and others by employers. Through participating in them I further developed my team work and negotiation skills.
I also took advantage of the opportunity to act as a Postgraduate Ambassador, which was an amazing experience! I was paid for the work that I did, but the most valuable part of the experience was the opportunity that it provided for me to engage with other energetic postgraduates, and to provide support for other students. I loved knowing that I was doing something useful and that I was helping others.
I am now employed by Unilever Vietnam as a Management Trainee. I learned a great deal throughout the Human Resources & Consulting programme, not just academically, but also about how to work with others, how to carry out effective research and how to manage my time. I am sure that the knowledge and skills that I acquired at LUMS will provide the foundation not only for my career but also for the rest of my life.