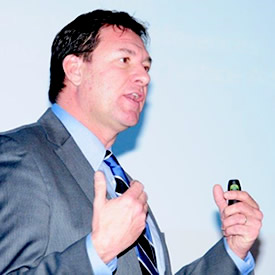 Andrew Hawkins
Country Of Origin: United Kingdom
Degree: PhD Marketing, 2012
---
Managing Director, PSNS EMEA, Microsoft Public Safety and National Security
---
I had the advantage of working with Lancaster University Management School prior to embarking on my part-time PhD in Marketing – I had already been working with Professor Luis Araujo, Dr Katy Mason and Dr Peter Lenny on the MSc in Advanced Marketing Management. As a result, I had a good insight into the School and was deeply impressed with the quality of the lecturing staff, the inclusive and diverse culture and the welcoming environment.
I enjoyed all aspects of the PhD programme. I learnt so much from researching and reading about theories, concepts and knowledge that related to the subject of my research: Knowledge Circulation within a Multinational Sales and Marketing Organisation. In addition, I was very fortunate and grateful to Microsoft and my many colleagues for enabling me to conduct in-depth empirical research as part of my daily work. However, my greatest enjoyment was my regular and thought-provoking discussions with my supervisor Professor Luis Araujo.
As an employee of Microsoft during my PhD studies, I was both working and conducting empirical research at the same time within the UK and internationally. This approach benefited my work and research equally and quickly the two became totally entwined.
My experience at Lancaster can be summarised as inspiring, transformational and, above all, enjoyable, and I thank all the team in the Management School for their help and friendliness.
Outside of my studies I really enjoyed being part of student life at Lancaster. I wished I had been 30 years younger and playing for Lancaster University rugby team! The University really does have an excellent Sports Centre and great sporting facilities. I also enjoyed sampling the cuisine and the views of the foothills of the Lake District from InfoLab21, not to mention the study tours to local pubs in Lancashire and the Lakes when many theories were debated!
Shortly after completing my part-time PhD, my wife Kim and I moved to Seattle in Washington State, USA. During this time, I was promoted to the role of General Manager, Worldwide Public Safety and National Security (PSNS), Microsoft Corporation. After spending nearly two years in the US we returned to the UK to re-join our daughters who had been at university and working in the UK. At work I am now part of the same team, in the role of Managing Director for Microsoft's PSNS business across Europe, Middle East and Africa.
After ten years, I continue to be involved in the MSc in Advanced Marketing Management and recently started working with the Lancaster MBA – with international students conducting live projects with my colleagues in Microsoft. This relationship has proven to be a win-win partnership for academia and industry. I am delighted now to have been made an Honorary Teaching Fellow in Marketing with LUMS.