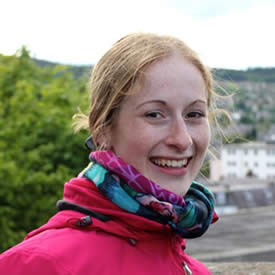 Andrea Schmetz
Country Of Origin: Germany
Degree: Full-time MBA, 2015
---
Associate Consultant, Evidera
---
I joined the Lancaster MBA coming from a medical background where I had last worked as a scientific researcher. I discovered that a good education in a special field and even experience does not necessarily make a person (in my case a medical professional) a good manager. But it is definitely possible to learn how to be a good leader and a good manager. That was the reason I chose to do an MBA and I definitely got an education in all of that and more.
I chose not any MBA but the Lancaster MBA because of Lancaster's approach towards leadership and what "good leadership" is. It is very different than the ones other universities have. It starts with asking questions of yourself and what our own fallacies and assumptions are. Challenging them on the background of an increasingly complex system, which is just as intensely discussed, is demanding and also greatly rewarding. This questioning of not only one's own standards, but also society's standards is not something that happens purely on paper and in theory but also very much in practice. On that front, I found that my development as a person surpassed my own expectations. Situations that seemed impossible at the beginning of the year are second nature now.
Working with people from over 20 countries on highly demanding projects taught me patience and tolerance, and deepened the core message of Lancaster's Mindful Manager programme: The answer is never simple and there is always more than one way to do something. But at the same time I learned to be comfortable with that, which is something that will help anyone no matter which field they turn to after their MBA.
For me the most valuable thing taught on the Lancaster MBA is not one specific subject, but the thought structure that is strengthened in all of Lancaster's modules. The extraordinary strategy modules are only one example of that. I learned to question everything very carefully, take little for granted and most importantly, how to distinguish a good argument from one that sounds big but is really just hot air. An MBA can never make you an expert in any particular field, but at Lancaster we got the theoretical and critical thinking skills to judge the arguments that cross a manager's path on a daily basis.
What I enjoyed most about this programme is that there was at no point any hostile rivalry in the class. Tutors made the programme so difficult and challenging that there simply was no choice but to work as a team. At all times we competed with each other against the programme and never against each other. Being part of a small group resulted in trust, very good group work and I believe the start of true and lasting friendships. There was always the possibility of being alone, but you never had to be if you did not want to. Even though the programme is really tough and intense, tutors always offered a helping hand and have an open ear for problems and concerns.
For me the Lancaster MBA was as much an academic programme as it was a lesson in "real life". We all became more accomplished people with a broader horizon and I consider this year one of the best and most rewarding in my life so far.