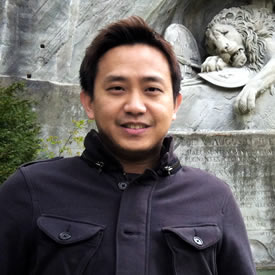 Piya Ngamcharoenmongkol
Country Of Origin: Thailand
Degree: PhD Marketing, 2010
---
Lecturer, NIDA Business School (Thailand)
---
I decided to do my PhD at LUMS mainly because of my supervisor who was the expert in the research area that I was interested in. LUMS's reputation as a strong research university also added to my consideration.
Summarising my experience at Lancaster, I would say that it was a very worthwhile experience. Everything seemed right. The PhD at LUMS provided the best learning atmosphere from professors, staff, and colleagues, as did the supporting activities such as seminars, conferences and interlending.
My doctoral research was on Self-image congruence and brand evaluation: examining approach and avoidance behaviour.
Following my PhD research I joined NIDA Business School in Thailand as a full-time lecturer. I'm also the MBA Director (English Program).
Doing my PhD at LUMS was the right choice for me. LUMS is a world-class research university. The PhD was a rewarding experience, though it had its ups and downs. I was able to get through it thanks to the support of my supervisor and everyone in the Marketing department. What I have learned at Lancaster – the key research and critical thinking skills – have laid the foundation of my early academic career, and I'm certain that it will continue to help me when facing challenges throughout my life.