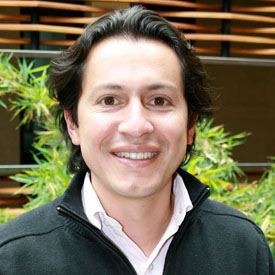 Andres Barrios Fajardo
Country Of Origin: Colombia
Degree: PhD Marketing, 2013
---
Assistant Professor, Los Andres University (Columbia)
---
I chose to study at Lancaster University Management School because of the fact that it is the most research-intensive business school in the UK. LUMS' top ten ranking as a Business School and number one ranking for its Marketing Department were determining factors behind my choice. Finally, I wanted to live in a city that allowed me to focus on my research studies, and Lancaster's friendly and calm environment enabled me to do just that.
I liked the flexibility of my PhD programme because I was able to select courses related to my specific research interests. The programme also has several tutorials which help you to adapt to the UK education system, and develop your skills further. Overall, the staff members throughout the University are very friendly and approachable.
The University campus does a great job of preparing and hosting trips, parties and events in order to make students and their families feel welcome and comfortable throughout. During my time at Lancaster I helped to create the Latin American Society. This was a great experience for me as it enabled me to interact and network with people from a variety of cultural backgrounds.
Studying my Marketing PhD at Lancaster was a life changing experience. I not only received a high level academic education, but I also gained several life lessons. I believe that Lancaster gave me the expertise to successfully face the academic world.
I am now an Assistant Professor at Los Andes University in Colombia (my home country). I am actively researching and teaching.