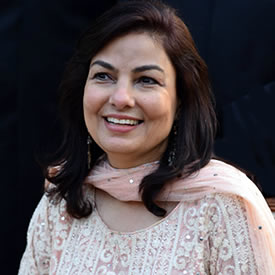 Shehla Arifeen
Country Of Origin: Pakistan
Degree: PhD Management Learning & Leadership, 2015
---
Associate Professor, Lahore School of Economics
---
As a faculty member at a university in Pakistan, I knew I would have to get a PhD. How, when and where remained a question for many years as I attempted to juggle family and my ambitions. When my youngest child turned 16, I began looking for a university that matched my research interests: women in management.
I shortlisted a few universities in the UK and within them made contact with various academics. Lancaster University had the foresight to understand that the area of my interest would have an impact. I wanted to understand the career experiences of British Muslim women in the UK. As Pakistani diaspora comprises the bulk of British Muslims, I later on narrowed my research to second-generation, highly educated British Pakistani women in managerial and professional positions in organisations in the UK. Dr Caroline Gatrell, who became one of my supervisors, played an important role in persuading me to wait a year before funding could be secured.
Thus after celebrating my 50th birthday at home, I flew to the UK with the blessings of my family and friends.
My experience at Lancaster University has been delightful. I loved the rolling hills around the campus, the beautiful views from my student housing, the chatter of my flatmates in the kitchen, and the warmth and care given by the porters at the graduate college. Living on campus was great in many ways. I could pop over to the office at all odd hours and work in an environment where I was well cared for.
Over the three years seven months I spent in the Department of Management Learning and Leadership, I clocked countless hours reading academic papers and books. I could do this because the library facilities were excellent. Most of my needs were met through one search. Any requests were handled quickly. The University provided IT software training regularly and the librarians were always available for hands-on help with EndNote issues or any other queries.
Additionally, world-class academics were regular visitors. All PhD students could attend their workshops and interact personally as well. The Management School created an environment that was focused on constant learning. It was up to the PhD students to make full use of the resources.
Doing a PhD is a long personal journey. The journey becomes easier if the environment is supportive, which was the case at Lancaster University and in particular in the Department of Management Learning and Leadership (now called the Department of Leadership and Management) which has its own ethos. The care extended by the department was both physical and emotional. They were responsive to any request, whether two screens for a desktop or a fan to cope with hot flushes! Furthermore, I knew I could walk into many of the academics' rooms for a quick chat or brainstorming session. The PhD students were treated as a part of the family, and we all enjoyed the intellectual discussions as well as the socials that were organised over Christmas and other times by the department.
I am back in Pakistan now, working as an Associate Professor at Lahore School of Economics, enjoying teaching as well as focusing on publishing my work, Ethical Selves and Glass Chains: A complex understanding of career experiences through the voices of British Pakistani women in academic journals.
Most importantly, I am confident that I can build on my research and contribute to the betterment of human lives, specifically the lives of women.