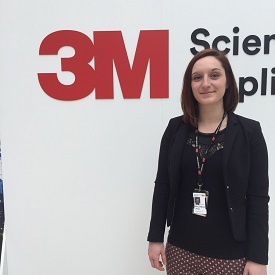 Rachele Lanza
Country Of Origin: Italy
Degree: BSc Marketing Management, 2016
Rachele worked as a Marketing Coordinator with 3M during her placement year.
The placement year was the perfect opportunity to experience what the real working life felt like before having to make critical decisions for the future at the point of graduation. To me the placement represented an opportunity for me to gain invaluable work experience that would equip me with the knowledge to make more informed career decisions once I graduate.
My placement role was dedicated to executing the communications strategy for the Aerospace Division, working with both traditional and digital media. Alongside my marketing communications responsibilities, I was also organising events and training sessions, working on specific short-term projects and supporting the sales team. Later in the placement year I was given additional product management responsibilities, so by the end of the placement year I was effectively looking after one of the three Aerospace commodities.
I worked in a very industrial environment so I gained technical awareness alongside process knowledge and business understanding. I was also very lucky to work with a very supportive team of highly knowledgeable, competent individuals who encouraged and supported my development within the role and the industry. The learning curve that my position and my colleagues helped me outline definitely represented the most precious and enjoyable aspect of my placement experience.
In my case, I think my placement has proved fundamental to help me crystalize what kind of career and academic paths I want to pursue in the future. I would love to return to the same company as a graduate, and I believe the specific as well as more general business skills I have gained would help me successfully do so. Having said that, most of the skills I have developed throughout the year – from communications, to presentation, to digital marketing skills – are highly transferrable and would undoubtedly prove valuable to me in any career or academic course I shall embark on in the future.
LUMS and the Careers team in particular made an absolutely excellent job in helping me secure and prepare for my placement. From my first year, their focus on employability gave us a clear indication of what needed to be done in order to be high-quality, employable undergraduates – as well as providing us with valuable resources and support to help us do so. The overall approach LUMS takes towards the placement experience is very stimulating and engaging, and the support network in place before and during our placement means that help is always at hand if needs be. Without the support from the Careers team, I would have faced the workplace experience unprepared.
My placement experience was an incredible opportunity to develop myself, both as a competent practitioner and as a person. It gave me the chance to see how the day-to-day practices evolve and work to form the "bigger picture", and gave me a taste of what the real workplace looks like and what it feels like to be a part of. Overall, it was an extremely valuable experience that I would recommend to every undergraduate.