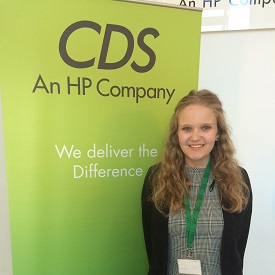 Samantha Millican
Country Of Origin: United Kingdom
Degree: BSc Business Studies (Industry), 2016
Samantha worked with Hewlett-Packard CDS in Reading for her placement year.
It was important to me that my degree encompassed a placement year. This was primarily because I believed it was important to gain first-hand experience and exposure into a fast-paced working environment prior to graduation. A placement year at Hewlett Packard CDS was perfect for me as it allowed me to build strong working relationships whilst being given opportunities to see my work being implemented within the company, improving their communications strategies and actively seeking out new projects.
My role as Internal Communications UK&I was a 13 month placement where I was the central hub for all communications within Hewlett Packard CDS. My day-to-day role was never the same, which made my role very diverse. I had the opportunity to be involved in many activities such as: creating a communications plan for UK&I, becoming project lead on a hugely successful employee engagement competition, creating and publishing the quarterly staff newsletter, being an active member with various stakeholder activities and much more! During my placement I was made project lead for the 'Be The Difference' competition around employee engagement. As this was a new initiative launched by Hewlett Packard CDS, to be a part of it was really exciting. Taking the lead in this project from proceeding with the initial idea to turning it into something real was really enjoyable. Near the end of this project I was also awarded a 'Performance Excellence Manager Award' by my manager, which made me feel really valued within the organisation and that work has made a difference.
Overall my placement at Hewlett Packard CDS was thoroughly enjoyable as I was able to network with colleagues across the organisation as well as making new friends within the intern community. Ever since my first day I have been fortunate to have direct contact with the Leadership Team in the UK&I, allowing me to present my ideas to them on a regular basis. I feel that, as a whole, the opportunities offered to me were invaluable from being given real responsibilities to helping to solve problems to seeing my work achieve results and being recognised for it has been a great feeling. I honestly would recommend anyone who is contemplating doing a placement to apply! The amount I have learned along with the skills I have gained are transferrable to any piece of work or job that I may come across in the future. Since working at Hewlett-Packard CDS my communication skills have improved dramatically and due to the nature of my role so has my attention to detail. I feel that by gaining real work experience in a fast moving environment has also helped me improve my time management and organisation skills. From all of this I truly believe that everything I have learned whilst being on placement will help me with my final year studies as well as any future jobs that I will have.
I found the whole procedure of applying for placements to be initially very stressful but I found the careers team within LUMS extremely helpful. When I found out about receiving an offer to attend the assessment centre for Hewlett Packard CDS I was asked to prepare a presentation prior to the day on "Why should we choose you?" As you can imagine this was quite a daunting task, not knowing what other candidates were going to write, presenting in front of people you have never met before not to mention what to write that would best sell yourself! Fortunately, Rory Daly was more than happy to support me and listen to my presentation before the day and to suggest any ways I could improve. It is really useful to have the careers service in LUMS so close, so I highly recommend you utilise their help. It must have worked because a week later I got offered the job!