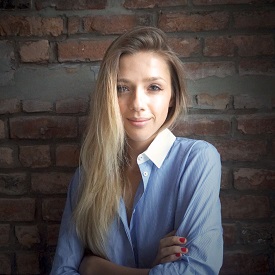 Daniela Panus
Country Of Origin: Romania
Degree: BSc Marketing Management, 2016
Daniela worked with Kantar World Panel for her placement year.
My placement year was an opportunity to take my learning into a new environment beyond the classroom and also gain a better understanding of what career path I wish to pursue after graduation.
My placement was at Kantar Worldpanel, a leading global market research company with their headquarters in London. During this time, I was a Reporting Analyst, and with that, my main focus was around collating and implementing market data for our global clients. At Kantar, one of the key elements that I found was responsibility. This is something that goes beyond the traditional university lecturers, as I was responsible for delivering live online data for global companies, which ranged from major retailers to FMCGs. This responsibility made me directly accountable for the data that was available to our clients, which highlighted the need for speed and accuracy in the submitted research.
A key takeaway from this placement is that your job title simply conveys your primary activities, beyond this I was able to get involved in many other projects. One such opportunity was that of the internal ISO audit in order to standardize business processes throughout the company and allow for greater efficiency in tasks that require multiple team member inputs. From this experience I received external training and the internal auditor certified qualification. Another area that I was able to get involved in was the 'ONE Event', this was a major part of the recent transformation of the business as it began transitioning some processes from traditional practices to ones that enhances creativity allowing employees to truly explore their potential. I was fortunate to be able to work in the planning and implementation of the event, which really demonstrated the advantages of being proactive in searching for new learning opportunities beyond that of my job description.
Being constantly engaged and passionate about my tasks was highly rewarding. As a result, I was nominated and elected by the board of directors as the winner of the Inspire Award – an achievement that will forever stay with me when I look back at my placement experience at Kantar Worldpanel.
This placement was invaluable in my personal development, and has provided me with the resources to continue my academic learning but also my career ambitions. As a result, I was able to secure the position of AAG Segment Marketing Analyst at Intuit - one the largest financial software providers in the industry. Appointed as the lead of two projects in the company, I have been able to continue learning and feeling more excited and optimistic about the future than I ever did before.