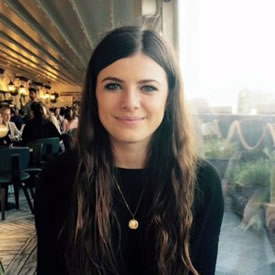 Charlotte Johnson
Country Of Origin: United Kingdom
Degree: BSc Marketing Management, 2016
Charlotte worked as part of the L'Oréal Paris Marketing Team for her placement year.
As we know the graduate job market is continuing to get more and more competitive and the top employers are increasingly looking for graduates with relevant experience. Therefore I chose to take an industrial placement to get a foot on the job ladder early and to put myself in the best position to get a graduate role once I have graduated.
At L'Oréal I worked as the L'Oréal Paris Hair Colourants Marketing Intern. As expected the role allowed me to gain a great understanding of consumer marketing. However, due to the nature of marketing at L'Oréal my role involved working with many functions of the business, including commercial, merchandising and supply chain, giving me great overall exposure to a FMCG organisation.
My placement year was invaluable. I learnt so much, more than I ever expected, and I really enjoyed it at the same time. Working within L'Oréal Paris was extremely fast-paced: no two days were ever the same so it remained an exciting role for the whole year. My role was very much an active role and I was given the responsibility of an Assistant Product Manager. This meant that I got the chance to manage a nationwide marketing campaign and I was looking after my own budgets.
L'Oréal was a great place to complete my placement – there are over 70 interns there at the once (along with grads) therefore you never feel out of place. A lot of the employees there started by doing a placement at L'Oréal so there are lots of people to learn from and get advice. At L'Oréal I was treated as a vital part of the team and my work was really valued – it was great to see how my work was impacting the wider business. Finally, there is a great social culture at L'Oréal which helped me to settle in quickly, plus living in London for a year was amazing!
Working at L'Oréal has confirmed my affinity for working within the FMCG sector, therefore I will be looking to gain a place on a marketing graduate scheme with a similar organisation. My placement allowed me to gain a great understanding of the consumer goods industry and how different functions of a business work together to be successful. The skills I have learnt – managing complexity, building relationships, and the ability to be flexible – are all highly transferable. I believe these will really allow me to hit the ground the running once I graduate.
The LUMS Careers team were great at helping to put me in the best position when I started the application process. The team were happy to review my CV and cover letter, and provided useful advice on how to tailor these to each company I was applying for. In addition, I was able to meet with the team to get one to one advice on how I should prepare for different stages in the application process; they are very knowledgeable on how these can vary by organisation.