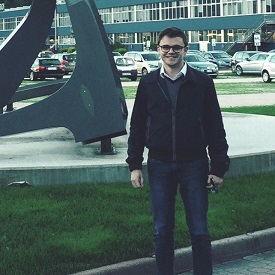 Julius Pfeifle
Country Of Origin: Germany
Degree: BSc Business Studies (Industry), 2016
Julius worked in Milan for his placement year with the Luxottica Group.
The most important reason for me to take a placement year was gaining first hand experience of the subjects studied during the two years spent at university; I wanted to find out how the theories are put into practice under real life conditions. I also saw the placement year as a gateway to practice my Italian language skills whilst living abroad.
My placement was divided into two stages, where the 1st stage was located at the corporate offices in Milan. There I spent 7 months working as a Marketing Research Analyst working on both quantitative (e.g. online price monitoring) as well as qualitative (e.g. brand value tracking, potential markets analyses, competitor analyses) market/consumer research projects with external agencies. The 2nd stage took me to the company operations headquarters, where I was part of the Demand Planning team. Primarily my role included sales data analysis and reporting, requirements monitoring and production forecasting.
Due to the specific nature of my placement, I was lucky to get the opportunity to work in two completely different work environments. Getting not only an insight into Marketing, but also gaining experience in Supply Chain Management, this year has helped me understand the different functions of the eyewear industry, in which market intelligence and a well-integrated supply chain are key to serving this fast-changing market.
What I enjoyed most about my placement was definitely the fact that it was abroad. Not only did I improve my work-related skills, but I also managed to become fluent in Italian, due to the fact that almost all communication at the workplace was in Italian. Being one of the world's largest luxury goods manufacturers, Luxottica allows you to work with internationally renowned brands, indirectly teaching you about brand strategy, too.
The LUMS careers team and the business studies modules provided me with useful courses prior to going on placement, such as mock assessment centres and work-life-simulating training sessions, equipping me with skills that have proven to be useful during my placement.
I currently plan on continuing my studies with a Masters degree before I consider taking on a full-time job. The skills gained during my placement year will hopefully help me qualify for work in both marketing/brand-related jobs as well as manufacturing industries. I could definitely see myself working abroad or travelling, as I am always interested in exploring new cultures and challenges.