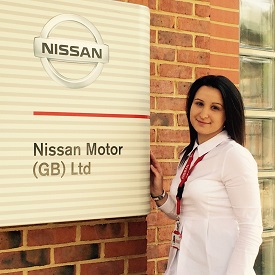 Dessi Doncheva
Country Of Origin: Bulgaria
Degree: BSc Marketing Management, 2016
Dessi worked as a Marketing and Communications assistant with Nissan for her placement year.
I chose to take a placement year because it gave me the opportunity to put into practice everything I learnt in my first two years in Lancaster University and more importantly to see the actual differences between theory and practice. Additionally, it gave me the opportunity to try out different roles and decide what I'd like best for my future career.
As a Marketing Communications Assistant, my role was spread across three functions. I worked as part of the Brand Experience team where I was managing the brand experience centre- Nissan Innovation Station at the London O2 Arena, being responsible for content management, tactical activities plan and day-to-day running of the venue. One of my biggest projects was organising aspects of the biggest motorsport event in the UK- Goodwood Festival of Speed. I also worked on Nissan's partnerships with British Olympic and Paralympic Associations and UEFA Champions League where I was assisting teams and franchise network with the adherence to legal and brand guidelines and was looking after stakeholders meetings on the partnerships. My third role was in Social Media, where I was responsible for managing customer queries and complaints coming through social media channels, coordinating customer communication between the Product, Aftersales, Sales and Franchise teams.
My placement has been an incredible experience, very challenging, developing and rewarding. I was lucky enough that my role was so interesting and constantly evolving, I was working with different people all the time, even at different locations, which made it feel versatile and diverse. I had the opportunity to build a great network in the automotive and marketing agencies world and gain a lot of knowledge about the industry, business, communications and corporate business relationships. As soon as I proved my accountability, I was given significant responsibilities and projects, which made a significant tangible contribution to the business and turned me into a valuable team member. I had regular exposure to senior management as well, giving me the chance to prove and showcase my abilities. At the end of my placement, the Marketing Director personally thanked me for my contribution to the success of Nissan's most important event of the year, while the HR team chose me to represent the Industrial Placement scheme in the following year's communication.
The things I have learned during my placement will not only help me in my future career, but also in my academic studies in final year at university. I have gained a lot of experience in time management, team work, managing people and expectations, delegating tasks as well as questioning assumptions, analysing data, situations or issues and honing my problem solving skills. All of these skills are crucial in the professional world, but also extremely important for a successful academic year.
My placement preparation actually started from day 1 of my Fresher's week at university, when the Careers Team urged us to make the most of our year- participate in various extra curricular activities, do voluntary work, attend seminars and employer sessions, etc. During the actual placement search, the team was incredibly helpful, giving useful feedback on CVs and application forms as well as practical advice before interviews and assessment centres. The team regularly organised employability events ranging from practical interviews workshops to Meet the Employer events, where even the least confident student had the chance to hone their skills and prepare for the placement hunting. I even had a member of the team doing a mock-up assessment centre with me before the day of the actual one so I can run through my presentation, possible questions, etc.