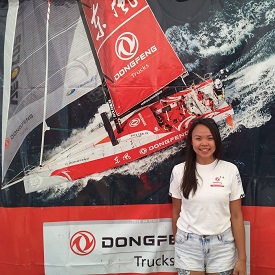 Kai Wai Crystal Luk
Country Of Origin: Hong Kong
Degree: BSc Marketing Management, 2016
Crystal worked with the Dongfeng Race Team around the world for her placement year.
Working around the world in my placement year allowed me to gain invaluable work experience and it was a great opportunity to be practical rather than just reading the case studies from the journals and it provided me with the opportunity to experience different cultures and meet new people. Not only does a placement year provide an insight into the real working condition it also expanded my personal and business networks.
I worked across three departments in the team. As a logistic assistant, I was mainly in charge of the travel plans of the team of 50 people, I had to manage their flights and accommodation in each stopover. Moreover, I had to apply visas for the team members to ensure that they could work in different countries. Furthermore, our project was fully sponsored by title and platinum partners so I was in charge of the financial documents in order to make sure we spent the money in the right place. Last but not least, I worked with the hospitality department where I had to host the guests on boat and on land, describe the daily routines of our work and explain clearly to them about our project's aims and objectives.
From the first day I started my placement I immediately became part of the team, I worked all around the world with these people and I was always treated in the same conditions and never like a lower intern. My placement year was challenging, it was hard for me to adapt to a new working place at the beginning of the race but I started to enjoy working around the world after two stopovers. We were able to have one or two days off in some of the stopovers so that we could go sightseeing, this not only allowed us to know more about local culture and famous landmarks but also help out to balance out our work pressure. Furthermore, I was also given a lot of responsibilities that kept me busy and learning everyday.
I was lucky that I could be able to work in 11 countries in my placement year. As I love traveling I enjoyed the opportunity that I had to work in different countries where I could travel and work at the same time. I visited many famous landmarks, such as, the Table Mountain in Alicante, Cape Point in Cape Town, Pena National Palace in Lisbon, etc. Also, this was a very unique experience for me to explore the different countries' working styles.
When I finish my marketing management degree, I would like to work in marketing field, specifically in the advertising industry. My placement experience was extremely rewarding and I am sure the skills that I learnt this year will be transferable to my graduate job. I sharpened my communication, problem solving, teamwork, and management skills and these practical skills will be an addition to my CV and lead me to a permanent marketing job.