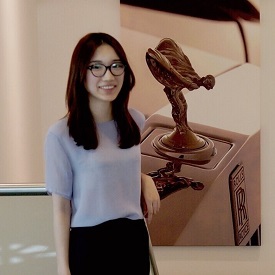 Yiran Feng
Country Of Origin: China
Degree: BSc Marketing Management, 2016
Yiran worked with Rolls Royce Motor Cars for her placement year.
I worked in three different areas during my placement in Rolls-Royce Motor Cars; long term planning; provenance and customer experience. In long term planning, I worked actively in projecting sales budgets, populating long term plan scenarios, as well as reviewing targets. I was also managing the provenance portal where we list all our Provenance cars for dealer access. During my time in Customer Experience I worked actively in the launch planning for our new Commissioning Suite. My main responsibility also involved handling dealer/customer enquiries as well as their booking requests, I was also responsible for managing all relevant purchase orders and when necessary liaising with Finance to arrange payments. My role was both numerical and product oriented, it was very flexible that I have also participated in many other work/activities outside my responsibilities.
It was quite a journey to work for a super luxury automotive brand, and working there opened my eyes to so many things. Because of Rolls Royce Motor Cars' brand value, everything there strives for perfection – from products to people. I have learnt so much from my job, from people who worked with me, and from the company ideology. Like driving a Rolls Royce, it was an effortless experience doing a placement there as well given the extent of support I had. Although I was not doing a marketing focused role, my managers were very supportive and helped me get involved in various marketing projects. During my time there I have further developed a number of key competencies such as communication, cooperation and computer literacy. I enjoyed working as a part of the big organization and contributed to the making of something great, as a result my organisational awareness boosted dramatically as well. I would definitely say it was an invaluable and extremely enjoyable experience to work in Rolls Royce Motor Cars.
I have to say how much I enjoyed the flexibility of my placement. While my role may restrict me to certain work, my managers and co-workers were extremely supportive in making my job more diverse and fun. Once I was involved in a dealer induction course, my responsibility was to exploit my product knowledge and explain the prestigious features which make the drive effortless while the dealers were testing the cars. It was very enjoyable to spend time working outside the office, and I got to meet more people by participating in these events as well.
Throughout the year I have been indulged in operational and strategic working and as a result I have grown quite interested in pursuing a career in a related area. I have developed good analytical and planning skills which have enabled me to extend my career scope to a new division. In addition to my passion in sales operations, marketing has always been my dream career sector and through my work placement I have gained strong skills that will really help me to seek a career in PR, Marketing, and brand communications. With my newly developed expertise in this area I now intend to find a Marketing focused graduate job in the luxury automotive industry.
When I first started to seek a placement, I received a tremendous amount of support from LUMS Careers Team. They assisted in CV writing, interview techniques, and online test preparations. English being my second language, I received valuable support from Rory when I was having problems evidencing my skills. Even after I found my placement the LUMS Careers Team were incredibly supportive every time I needed some advice!