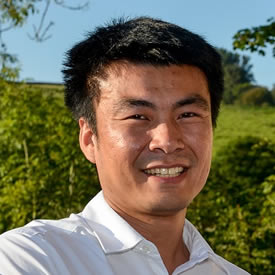 Leo Yu
Country Of Origin: China
Degree: MBA, 2015
---
Project Manager, King's College London
---
Leo Yu chose the Lancaster MBA because of the Mindful Manager module and the opportunities it provided to challenge managerial context and ethics. Below he reflects on some aspects of his learning and how they relate to his future.
"Most men die at twenty or thirty; thereafter they are only reflections of themselves: for the rest of their lives they are aping themselves, repeating from day to day more and more mechanically and affectedly what they said and did and thought and loved when they were alive."
The quote above has three different meanings to me:
1) It is my value—for it I have been working very hard to keep myself 'alive';
2) It is my reason—for wanting an MBA, for pursuing my life goal to make a better world, and for changing myself to be a better man;
3) It is my manifesto—I used it to impress the admission team in Lancaster, I use it to change the people surrounding me, and I use it to tell the world that we should not 'die' in this way!
I still love this quote, and it's still influencing and inspiring me every day! However, I have to admit that the year I spent here in Lancaster as an MBA candidate 'slightly' changed the way I think about it. Here is my story.
Before I came to Lancaster, I worked as a freelance writer, a drama playwright, a TV program producer, a marketing manager, a product manager, and a campus supervisor.
Just as the quote describes, if I found my life was 'aping' itself, I changed. I enjoyed those changes as they gave me fresh thoughts and experience. However, I also found myself lost in the changes so that I could not simply answer the question, "Who am I?". I wrote to the admissions team in Lancaster that I wanted to answer this through the Lancaster full-time programme.
I have to say, the response and interest showed by the Lancaster team was the key reason I chose to study here. I still remember my interviewer's first words: "What did you do to keep yourself alive today?"
Now that I am almost finishing my MBA, I believe it really has helped me and the programme is definitely not ALL about business. I may not achieve the highest salary increase after graduation, but I am convinced the programme will change my whole life.
The Mindful Manager module taught me the state of mindfulness, which benefits me in being a manager and shows me the way of being a good man. The strategic perspective of business (not only because the strategy course is ranked world no.1, but also because every course is taught with a strategic view) gave me a new outlook that I can use for both my career and my life. The values the Lancaster MBA holds and my cohort delivered are authenticity, integrity, love and trust, which are so often lost or abandoned in this wicked world - especially in the world of business.
On account of these inspiring modules and discussions with my colleagues, my view about change has changed too. I find that I may not have to keep changing to find "who I am"; the things that stay unchanged in me provide the answers and I am comfortable with that.
I am still a big fan of change generally because it moves us forward. The decision about what to hold onto and what to change is most important. What we hold onto Bertrand Russell called 'passions'. And I find my passions are very similar to his:
"Three passions, simple but overwhelmingly strong, have governed my life: the longing for love, the search for knowledge, and unbearable pity for the suffering of mankind."