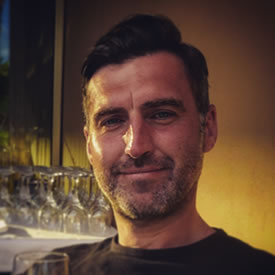 Mark Johnson
Country Of Origin: United Kingdom
Degree: EMBA, 2015
---
Senior Project Manager - Site and Facilities Major Projects , BAE Systems
---
The last time I had undertaken any academic qualification saw me achieve my first degree in 1998 when I graduated from Salford University with a BSc (Hons) in Communications Technology. This allowed me to progress in to my chosen field of Control Systems Engineering spending a considerable part of my early career at Sellafield.
I was fortunate to develop my skills and knowledge through the organisation and made the transition into Project Management around 2005 and it's an area I have been involved in ever since. Primarily focused on key strategic projects at Sellafield and moving to BAE Systems in 2009 I have continued the theme. My role now has me developed into a Senior Project Manager responsible for delivering the business's capital investment in maintaining and developing the site. My team deliver around £15M of projects every year across a multitude of areas. In support of my development I have continued through the APM and have been a qualified PM practitioner for some time.

In terms of academic life, I felt I had an 'itch to scratch' and had a real inner desire to further my education in both a practical and informative way that would support and help to develop my ambition to enhance my career in the business (and possibly elsewhere). The MBA was an easy choice to make: this ticked all the boxes in terms of the broad knowledge coupled with deep understanding of all aspects of the business world (including those I had little or limited exposure to previously).

Lancaster was an easy option for me. I'd heard of the course through colleagues who'd described it as "life-changing" and "the best thing you'll ever do". Given the location and the fact the business saw fit to support me through this process in sponsoring me, I was delighted to embark on what has proved to be all that I expected and more.

The Lancaster MBA has built my business knowledge and skills measurably. It's given me greater confidence, ability and drive. The business has also recognised this and is supporting a career plan that is driven by myself. I am looking to move into a Business Strategy role in the coming months and this would not have been possible without the MBA: of this I am certain.
The highlights for me are probably too many to list here but the breadth of topics, the expertise and delivery by the tutors is tremendous. The "hard subjects" like finance and "operations" are delivered wonderfully, even for relative beginners, and the common thread of leadership that continues throughout is brilliant. The confidence it inspires is tangible and the competencies are grown, developed and reinforced throughout.
One of the most amazing aspects is the cohort and the study groups. I have gained so much in the way of support and understanding, coupled with a breadth of experience and some real and genuine friendships that shall undoubtedly remain for life. My study group has been an inspiration to me and the mutual support has gotten us all where we are today.
For anyone wanting to embark on this rewarding, life-changing and career-enhancing programme, I would suggest that you understand the commitment you are making – it's not easy and giving up a considerable amount of your personal time and life is hard, particularly for those of us with families and demanding jobs. Believe me though, it's all entirely worth it.
Loved every minute? Just about!