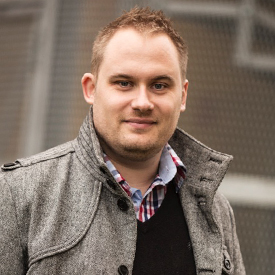 Soren Udby
Country Of Origin: Denmark
Degree: MSc Project Management, 2015
---
Project Manager, Rinicare
---
I first became aware of LUMS Old and the MSc Project Management programme when I heard about them from a friend, whose cousin had been accepted to study at the University. I was looking for a degree where I could get some practical hands-on experience rather than just theoretical lectures, and LUMS provided that. The University's reputation was another big factor in my decision-making process, it was important to me that the lecturers were people with real world experiences that they could draw on.
Another thing that attracted me to the Project Management programme was the sheer variety of skills taught throughout the degree. It covers both "hard" project management skills, such as Earned Value, and "soft" skills such as leadership and team management.
My favourite part of the degree programme was the mix between theoretical lectures and practical projects. I feel the best way to learn a skill is to study it and then use it in a real life situation. I enjoyed the client projects a lot – it really elevated my understanding and execution of the theory. I also found the inherent mix of nationalities and age groups to be a really valuable part of the learning experience, because I discovered through my fellow classmates many new, and sometimes weird, ways to solve a given problem. Preparing for and writing the dissertation also turned out to be less frightening than I had initially anticipated. This being because I was given so much support from the Management School to ensure that I knew what was expected of me, which alleviated a lot of the stress.
I love the Graduate Bar, AKA 'The Herdwick', which is the perfect sociable place to relax and meet people. I found that Graduate College was very active in organising events that made it easy to mingle and be introduced to new people and make friends, which can be somewhat daunting if you do not know anyone beforehand. The University also enabled the cohort to do some team building events, which were a lot of fun!
For the second team project, I was involved with a care service provider for disabled people in Lancaster, called 'Outrageous Ambition'. True to their name, they had some great ideas for their organisation on how to improve the quality of care. So the team and I worked on a new business plan for the organisation, including plans for development and management. It was quite a big project with 4 large deliverables, but through good teamwork and some good project planning we got it done on time, to the delight of the client.
For the summer project I worked with another team for a client that developed smart organic fertiliser. While the client was, and I am sure still is, a brilliant agricultural engineer, they had no sense of management. They ran close to 50 projects using just two large whiteboards. So our task was to analyse the company and its needs, and then produce a recommendation for a project management tool they could implement. It was a really good project that summed up almost everything we had studied at LUMS.
I loved my time at Lancaster University. It was a really busy year that required hard work, but I learned a lot and met many nice people. I now use a lot of the skills I learned at LUMS on a daily basis in my job as a Project Manager.
As I am Danish, the Danish government paid my tuition fees due to my performance at undergraduate level. That is what enabled me to take Project Management MSc at Lancaster; without that support I wouldn't have been able to afford to undertake the degree. The immediate impact was that I did not have to find a job, and instead I was able to concentrate all of my efforts on my studies, which of course helps a lot in the end.
I engaged with the LUMS Careers Team very early on in the programme, as I was very keen to maximise my chances of getting a good job. I attended as many workshops and careers fairs as possible during term time. I also found the one-to-one sessions on Wednesday afternoons to be quite useful. With the advice I was given from the LUMS Careers Team I built a very professional CV, which helped me to secure my dream job before I had even started writing my dissertation.
I am currently working as a Project Manager for Rinicare in Lancaster, where I manage projects developing smart healthcare technologies. Rinicare is a 5 year old start-up that has been very successful in developing new products for hospitals, ambulances and nursing homes. Almost all of my colleagues have attended Lancaster University at some point, and so we have great team spirit. I actually use many of the specific skills taught during the MSc programme in my daily life – from project planning to stakeholder management to risk management. I feel this diverse set of skills will allow me to work in many different industries, and I feel quite confident about my future career with a degree from Lancaster University on my CV.