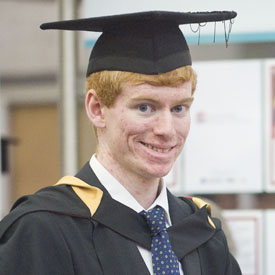 Dan Dupont
Country Of Origin: United Kingdom
Degree: MSc Project Management, 2015
---
Project & Events Manager, Our Local Heroes Foundation
---
Having studied for an undergraduate degree in Mathematics at Oxford University, I was looking to expand on the skills I had learned and gain useful real world skills for jobs I might be interested in. Having been advised by a friend that Project Management might interest me, I looked into the options but found that none of the courses available really jumped out at me. That was until I came across the LUMS MSc in Project Management programme. The modules sounded really interesting and provided unrivalled opportunities to gain real world experience to practice and further develop the skills learned. Having found the course, I had applied for it by the end of the following day!
I think a great example of how well rounded the experience provided by the course is can be given by how hard it is to give just one answer to the question of 'what I liked most about the programme and the learning experience at Lancaster'! The opportunity to work with real businesses and charities was fantastic, as was the experience of working with a variety of students from a broad range of backgrounds, from all corners of the world. This taught me a lot about being able to work with different people, as well as being a really nice social experience with such a friendly cohort of students. Lancaster is also a great place to study, with lots of extracurricular activities, fantastic scenery and great student support, such as the Careers Service.
There are so many fun aspects to Lancaster University life, from the range of friendly societies to join, to the opportunity to visit great places nearby such as the Lake District and Lancaster itself, which is a really nice place with loads of great pubs! Within the MSc in Project Management the students were great at getting together to socialise, from trips to Grad Bar at Graduate College to an international food day and a trip to a high ropes course. These social aspects of the programme were made possible by the great encouragement and support of the tutors.
In my final term I worked in a team of two as consultants for a veterans' charity to construct a business plan for an outdoor activity centre. This involved a lot of varied work, in which we were able to apply a number of the skills we had learned. Our client was so impressed with the work we produced and our professionalism as project managers that I was offered a job at the charity on graduating from the course. For that I am very grateful to the MSc in Project Management for providing a direct route into my first job post-graduation!
My experience at Lancaster provided me with the perfect bridge between the skills I had learned at university and the practical experience needed to succeed in the real world, whilst providing a really fun student experience at the same time.
I received a scholarship for academic achievement, which was enough to sway my decision to take up the course as I would otherwise have struggled to afford the full cost of the Master's programme.
I found the LUMS Careers Team extremely useful, and believe that my CV is now far stronger than it was after completing my undergraduate degree due to the support provided by LUMS Careers in understanding how best to produce it. I also attended interesting careers service events which introduced industries I might have been interested in, and an excellent introductory workshop to LinkedIn. I had no previous experience of LinkedIn, but I was given a good enough understanding of it to be confident in producing a strong profile. I believe all of the help provided by the LUMS Careers Team will give me a much better chance of securing my next job.
Having gained employment directly through my course, I am now regularly applying the skills I learned on the MSc in Project Management as a Project & Events Manager for the award winning veterans' charity, Our Local Heroes Foundation near Preston. I am working to implement the activity centre, for which I designed a business plan as a project during my MSc, as well as organising and running a number of running events.