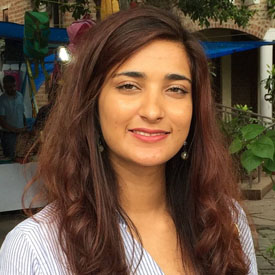 Harneet Dhaliwal
Country Of Origin: United Kingdom
Degree: BBA Management (Study Abroad), 2016
---
Strategy Consultant, KPMG
---
LUMS offers a unique and rare combination of studying abroad and completing a placement year to students. I always knew that I wanted to study in the US but I also wanted to get some industry experience before graduation as the job market is very competitive. This opportunity, as well as the reputation of LUMS as one of the leading Management Schools really appealed to me.
I loved the international element of my degree. I have met people from so many countries and they bring a unique and valuable aspect to my learning and growth, especially in the context of group work. There have been so many opportunities throughout my BBA Management degree where I was able to merge academic knowledge with practical experience, for example in the Consulting module where we had to work with real businesses and analyse some tough challenges that they were facing.
The campus life at Lancaster University is amazing! There is something for everyone and getting involved in clubs and societies is a great way to meet people. I was involved with the Chess society in my first year and attended many sports events such as Roses and Carter Shield.
In my second year I studied abroad at the University of Iowa in the US. It was one of the best years of my life where I made some life-long friends and immersed myself in a completely different culture, socially and academically. Not only did I get to experience Thanksgiving in the US, I also had the opportunity to visit Chicago and watch one of my favourite basketball team Chicago Bulls play at the United Centre. I also volunteered during my Spring Break in San Diego therefore I got to see a bit of the East coast which is very different to Iowa in the Mid-west. My day-to-day life involved going to lectures, grabbing lunch and dinner with friends in the dining hall and going to sporting events such as American Football and Wrestling. Sport is a huge part of student life in the States and it's a great way to support your university, meet new people and learn new things about the country.
I completed my placement at IBM in Warwick. I was responsible for Business Operations, which involved: attending team calls, hosting calls related to Project Management, creating spreadsheets, analysing data and on-boarding Contractors. Completing a placement year gave me the opportunity to develop my communication skills as I worked with colleagues from the Philippines, India, Czech Republic, Poland and Ireland. Moreover, I learnt the importance of good organisation skills and how best to prioritise tasks in the order of importance. During my placement I had the opportunity to: travel back to Lancaster for their Career Fair, travel to schools and talk to students about IBM and participate in Women in Technology events, organised by Google. Overall, I became a more confident and well-rounded individual and learnt to develop my weaknesses into strengths.
My time at Lancaster has been a whirl-wind because it has gone way too quickly! It has been the most rewarding experience of my life. I have developed so much as a person from when I first started; I am now more aware of the world around me, I have learnt to appreciate diversity and push myself out of my comfort zone. I have more confidence as an individual and I feel ready to take the next steps in life. Overall, Lancaster University provides you with fantastic support to achieve your goals but the decision and the initiative is yours.
I have successfully secured a graduate role with KPMG as a Strategy Consultant. I will be moving to London and starting my job in September. I believe my decisions to study abroad and complete a placement year has played a huge role in me standing out from the crowd and securing this role. Moreover, the opportunity of networking with employers and attending career workshops hosted by the LUMS Careers Team helped me to gain knowledge of what the employers are looking for and how I can meet those requirements.